By Carrie Polales Sansing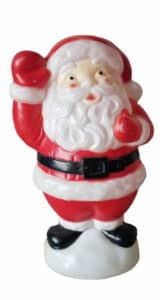 They are known by various names. Light-ups, lawn art, plastic kitsch, illuminated figures, or simply blow molds.
An Obsession Begins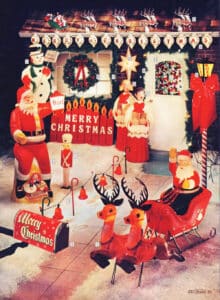 I recall the first time I poured over the Sears Wish Book and JCPenney holiday catalogs with my mother when I was a young girl, trying to decide what new items we could add to our growing collection of Christmas decorations. I always pointed to my favorite things that all seemed to have one thing in common: they were plastic and could light up. It all came down to that pivotal moment when the decisions were finally made and an order was placed. That was the day an obsessive blow mold collector was born.
Since that day in the mid-1960s, I have acquired a little bit of knowledge about more than just a few blow molds. Let's take a look at a few of the early manufacturers.
As a native Chicagoan, we'll start with the company that is the most responsible for my obsession. But first, a quick history of the blow-mold craze.
Blow-Mold Evolution
Blow molding is a plastic manufacturing process. In 1881, the first U.S. Patent was given to Celluloid Novelty Co. of New York for extruding a polymer (cellulose nitrate) into a parison. In a nutshell, a hollow tube (the parison) is filled with melted plastic, placed into a steel mold, and inflated with air, forcing the plastic to be blown to the interior surface of a metal mold, the metal mold is opened when cooled, and the item is removed and appropriately painted. Cellulose acetate was later used in the 1930s, and when Low-Density Polyethylene (LDP) was developed in the 1940s, the blow molding industry exploded as Monsanto started making plastic squeeze bottles.
Thereafter, many other manufacturers started using the process to produce plastic containers as a substitution for glass. In the 1950s, High-Density Polyethylene (HDPE) and Polypropylene (PP) were used to produce containers for water, oil, and most importantly, the lowly milk jug. Early in the 1960s, enterprising manufacturers started producing blow-molded Christmas decorations. Bernard Edward Co., of Chicago, IL, later renamed Beco; Poloron Products of New Rochelle, NY; Union Products of Leominster, MA; and NOMA/Tico were some of the first to produce blow-molded Christmas decorations. They were later followed by Dapol, Lidco, Hamilton Skotch Corp., Sunhill, Bayshore, Bel-Air Plastics, Empire, General Foam, and many others. – The Glow of Christmas Past
Beco Products, Chicago, IL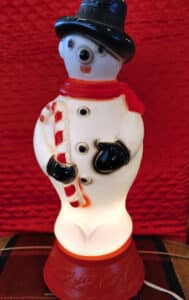 The date that the Bernard Edward Company (Beco) commenced business is unknown, but there is no doubt they were in business at least back in the late 1940s. Let's look at the evidence.
– During the late 1940s and early 50s, Bernard Edwards Co. produced various types of drapery hardware and kitchen items from metal and, most significantly, plastic. This may have helped propel the company into producing blow molds later.
– In March 1950, a trademark infringement lawsuit was filed by Ekco Products Company against Bernard Edward Co. for using "confusingly similar" makers marks in the late 1940s. Later, in 1954, it was stated that the marks were "not confusingly similar" in that Beco's mark was in "lower case letters," among other significant differences.
– One of my injection molded Angel Singers cartons is marked "Manufactured by Beco Products Corp., formerly the Bernard Edward Co." There is no zip code on the shipping label, so we know it was made before 1963. The trademark issue was resolved in 1954. Extrapolating from that information that the carton was transitional, we can assume Beco was producing injection molded Christmas decorations at least in the mid-1950s. Other boxes with similar graphics only show Beco Products with no reference to Bernard Edward Co.
Beco Blow Molds and Specifications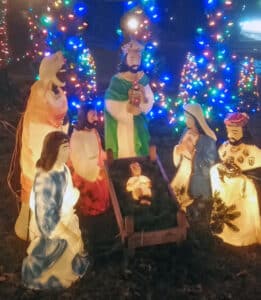 It is generally believed that in 1963-64 (unconfirmed) Beco produced the first fully 3-dimensional blow-molded Santa and sleigh set sold to consumers. In both the 1966 Sears and JCPenney catalogs, Santa and two snow-white deer were featured. Santa was illuminated from within but the deer were not. A spotlight was needed. This oversight was later remedied in subsequent iterations of the set.
Beco typically used a bottom-mounted lighting setup for many of their blow-molded pieces. The interior light bulb is held in the center of the figure by an upright metal rod attached to a plate housing that fits snugly into the bottom of the figure. The plate is secured in place by tabs.
When the plate is rotated, it locks the assembly in place. The benefit of this setup is that the figure is very evenly illuminated; however, there is a drawback. Once the figure is securely anchored outdoors, when the bulb goes out, the figure must be taken up, and the bottom plate must be removed in order to change out the bulb. This is not particularly convenient when the figure has been frozen to the ground and fingers are icy.
Beco produced something for almost everyone including a marvelous animated Santa. This 42" Santa came in two parts, fully equipped with a motor that sits atop his lower half. When assembled and plugged in, Santa is not only illuminated but rocks or bows forward and back. He was available in 1966 for the exorbitant price of $16.50 at Sears.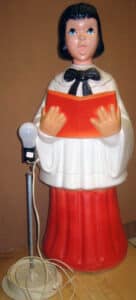 Beco's choir children/choir angels range in height from a convenient tabletop size of 12" up to 40" tall. Also offered in a range of sizes were a large assortment of Santas, candles, Nativities, and even giant ornaments that can be either staked to the ground or hung from the eves of
a home.
Beco continued in business until 1965 when the company was acquired by MSL Industries. MSL discontinued using the Beco name in 1968 replacing it with MSL Plastics. In 1970, many of the cast aluminum molds were acquired by General Foam Plastics.It is believed that the production of the Beco pieces ceased in the late 1970s to early 1980s, but the actual date is unknown. Like the next company we will visit, Beco's molds produced lasting, beautiful, and highly desirable pieces.
Poloron Products, Inc.
Poloron began business in New Rochelle, New York in 1937. Poloron produced not only blow-molded plastic figures but many items made from metal, such as picnic jugs, coolers, and Christmas tree stands. Their innovative line of blow-molded items included Santas, Nativities in various sizes, angels, toy soldiers, candles, lanterns, and more. Poloron also produced a wide array of smaller plastic decorations to adorn Christmas trees and tabletop displays.
The sculptural detail, impeccable paint applications, and use of thick, high-quality plastic produced long-lasting pieces of beauty and durability. Many of their blow-molded figures can still be found in good to excellent condition.
A hallmark of Poloron was their liberal use of gold metallic painted details on many of their pieces – most notably their choir people songbooks and cassock trim, candles, angel wings, and even Santa's beard. In daylight, the gold paint produces a rich, luxuriant look, but when illuminated at night, Santa's beard appears to have a heavy shadow because the light from within is not quite able to penetrate the metallic paint.
Following Beco's 3D sleigh set, Poloron introduced an improved, fully illuminated, version of its own. A beautiful red sleigh, a waving Santa, and sleek brown deer. The figures are lifelike, with great attention paid to the details. Poloron improved on the elegant sleigh again in 1971 when it introduced a new variation – a lovely white sleigh. In 1972, this sleigh could be purchased carrying a whimsical Santa with his bag of toys. The same deer were used for all three variants with blow-molded bodies, injection-molded hard plastic antlers, and came fully equipped with reins that were studded with jingle bells.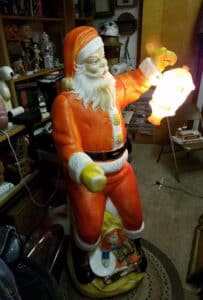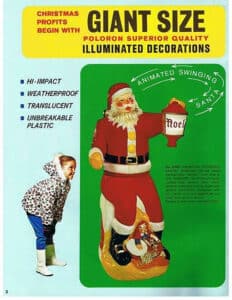 Poloron's famous choir figures were introduced in 1969, two different girls and a boy, each standing a whopping 48" tall. I clearly remember the excitement when we ordered four of them from Sears, three boys, and a black-haired girl. The bodies are all identical with interchangeable heads. In 1970 Poloron added the now highly prized African American boy.
Poloron used a heavy-duty, steel, back-mounted light kit in its choir children. The body is illuminated with a medium base bulb, and the head carries a c7 light, lighting the figures from top to bottom. The back-mounted kit makes it simple to change a bad bulb. But in the choir kids, it created a problem. The neck of each head has a deep groove around it. This design was meant to snap-fit the head into the body. One must use a screwdriver to gently lift the head out by inserting it into the groove. Today many of the figures are damaged in this area or have splits at the top caused by a frustrated owner yanking out the head.
Considered by some to be the "Holy Grail" of blow molds, in 1969 Poloron produced a magnificent motorized "Animated Swinging Santa Claus" holding a Noel lantern. This beautiful piece stands 60" tall and swings side to side at the waist. The plastic used was heavy and durable; the paint was of the highest quality. This same Santa was later produced when the aluminum molds were acquired by Plastic Toy & Novelty Co (PTN) and marketed under the Holiday Innovations brand and again, in a non-animated version, when the aluminum molds were acquired by Empire when Holiday Innovations went out of business.
Poloron Products, the innovative company that created incredible Christmas memories, ceased production in 1981.
Union Products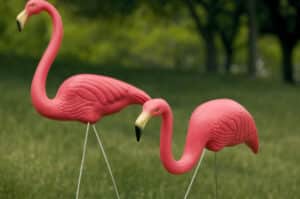 Union Products of Leominster, Massachusetts had the slogan "Plastic for the Lawn." And did they ever uphold that slogan. The company began business in 1947 creating, for the most part, hard plastic injection molded items and later added blow-molded pieces.
It was in 1958 that they released the icon of kitsch to the general public. The majestic plastic pink Flamingo. The pink birds spread across the landscape like wildfire, from coast to coast, pink birds could be found. Designed by Donald Featherstone, the bird became an instant sensation.
Mr. Featherstone went on to design over 750 blow mold designs for Union Products. Their catalogs featured not only Christmas decorations, but also Halloween, Thanksgiving, Saint Patrick's and Valentine's Day, Independence Day, and a full line of lawn and garden items from planters, pedestals, and decorative pots to all manner of animals and forest creatures.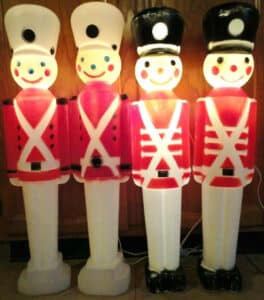 In 1987 Mr. Featherstone's signature was placed on the flamingo steel molds to commemorate the 30th Anniversary of the bird – and to distinguish authentic Union Products birds from the reproductions being made. His signature was later removed in 2001. This is an important detail that helps a blow mold collector to know the approximate age of a particular piece. Within a year or two, Mr. Featherstone's signature was put back on the birds along with many other blow molds across their product line. Many people today are incorrectly referring to Union Products molds as "Featherstone" molds. Don Featherstone was a gifted artist and sculptor, rising to President of the company. Still, the distinction needs to be clear, the manufacturer is Union Products.
Union Products, as one of the greatest producers of injection and blow-molded Christmas Americana, closed its doors in 2006. Happily, however, some of their aluminum molds were sold to HMC International, a subsidiary of Faster Form Corp. HMC subcontracted production of the blow molds to Cado Manufacturing, Inc. of Fitchburg, MA who, thereafter, acquired the copyrights and legal use of the name Union Products. The pink bird and many other pieces originally produced by Union Products are still in production today.
Judith Novelty Sales/Carolina Enterprises/Empire
It is believed that Empire of Tarboro, North Carolina commenced operations in 1953. Their earliest pieces were marketed under the name "Judith Novelty Sales," a division of Carolina Enterprises/Empire. Empire's product line was not limited to Christmas and Halloween, but included toys, riding toys, and even cartoon soap bottles.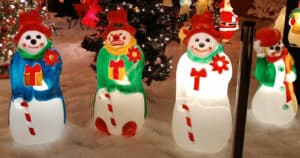 The quality of Empire's pieces was also very high, and their paint and application process was truly outstanding. In the company's early years, they produced many fantastic, original designs such as their beautiful injection-molded candoliers, blow molded candles, Santas, elves, toy soldiers, and more, Empire added to their line after purchasing some of Poloron's aluminum molds. They continued production of those as well.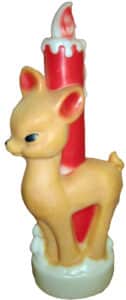 For a short time in the 1970s, Christmas-themed Disney characters were produced, Mickey and Minnie, Goofy, and Donald Duck. The production numbers of Empire appear to have been enormous as well as their distribution network. Empire blow molds can still be readily found all over the USA. The company went out of business in 2001.
Many other companies produced wonderful blow-molded decorations in the 1960s such as Dapol, NOMA, Lidco, Borse, Hamilton-Skotch, and Tico Toys, just to name just a few. All of them shared a commonality with the four companies we've just visited; they are all gone now but not forgotten. Their pieces are still out there in the wild, still creating new Christmas memories for generations to come.