Guess What Article for April 2005 The Journal of Antiques & Collectibles
By Bob Cahn, "The Primitive Man"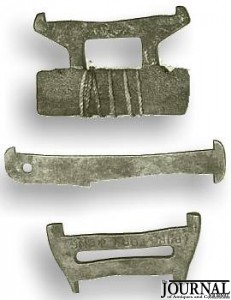 They're different – handmade of wood, mostly brass, but with the same functional applications. We've come upon like discoveries in the past; like two investors or scientists simultaneously arriving at similar solutions, though continents apart.
Here we have three different curioddities, each with their own unique version for solving a common problem. Like the hardware store cabinet handle display board, which one are you more comfortable with?
Try these on for size (roughly in the 5 inch range). They measured something:
Golf tees standard height regulator
Bridge tournament score-keepers pencil measure
Sardine packers can crammer
Lobsterman's legal size limit gauge
Brick layers distance spacer
Printers line-of-type measure
Gardeners bulb planting crowding preventer
Carpenters nail sizer
Horseshoe pitching nearest to the pin measure
Pie aerator or perforate.
The above list of possibilities does contain the correct answer. We'll confirm your suspicions next month. Till then!*
*From the personal collection of Bob McNeil, Backward Look Antiques, Lockes Island, Shelburne, Nova Scotia – who shows at Brimfield.
Answer to March 2005 'Guess What?'
What we confounded you with in last month's "GUESS WHAT" was an invalid self-help hospital bed exerciser and arm lift apparatus. It would be suspended from an overhead frame attached to the bed.
This is an extremely early example, crude but simple. It worked!*
*Discovered in Tennessee in the clutches of Zan Fleet, Squash-a-Penny Antiques, Doswell, VA.