Guess What Article for May 2005 The Journal of Antiques & Collectibles
By Bob Cahn, "The Primitive Man"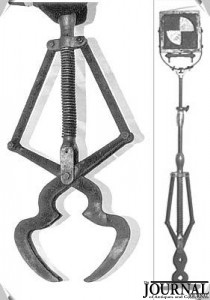 Terpsichore, tripping the light fantastic, ballet, Baryshnikov or Balanchine – it all translates into dance. And if we throw in "gandy dancer," we complete the parlay – while being overly generous (by our standards) in the "Obtuse Clue Dept."
We have a tall silhouette, nickeled brass, with an adjustable extension and crisscross, pincer-like spring-activated feet resembling an ostrich doing a grandman du pied. [We had to look that one up.] This piece started out in Florida and found its way to Brimfield three years ago in the custody of Maynard Langford III (Langford Antiques.) Who knows where it languishes now. It stands 43 inches tall, has a bubble level and a 6 inch by 6 inch frame at the top. It carries the Stanley brand name and a patent date of Oct. 1901.
Before we get on with the guess work and sorting out process, we're willing to stipulate that it's not a parade spectators exhaustion seat rest, but the correct answer is buried among the following:
Fireplace log tongs
Photographer's long distance lens focus calibrator
Farmer's bull castrator
Plumbers hot solder pipe tongs and holder
Road paver's rock setting tool
Railroad track layers rail leveling surveying stick
Real estate "Open House" sign stanchion
Underground cable grabber and snaking tool
Street corner musician's fire hydrant clamp-on music stand.
Time's up; answer next month. Till Then!
Answer to April 2005 'Guess What?'
Knowing the answer in advance of revealing it makes for a certain arrogance – and this column pleads guilty on several occasions. So when an item originates from a maritime province, such as Nova Scotia, it's safe to presume it has some relation to the sea.
The three handmade brass and wood artifacts are primitive lobster measuring gauges used in lobster fishing to insure that the catch is legal. Size is measured across the under body – and should be larger than the notches.*
* Thanks to Bob McNeil, Backward Look Antiques, Lockes Island, Shelburne, Nova Scotia.