Guess What Article for December 2006
By Bob Cahn, "The Primitive Man"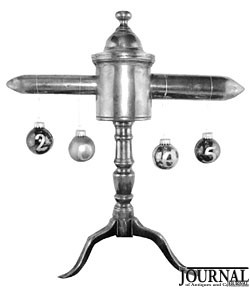 Whoever said this column doesn't respect holiday tradition has only to click on to our website to check out last year's Guess What. To be proven wrong, you'll find a cross-reference to one Buck Carson, friend, discerning collector and concerned citizen – who at Christmas time usually features an item from his vast and unique collection as the centerpiece of his seasonal communique.
This time we're spotlighting another enigma and puzzlement from his 2005 card, showing what looks like a posh stylized Victorian fire hydrant – or an avant garde farmers headless scarecrow (from the 19th C.?)
Regally posturing in polished brass – is your 15" high challenge – with stiffly outstretched arms extending approximately 5 inches on either side. These size references should help – because perspective always plays a part in the guessing process.
Is it:
Store display rack for doll clothes
Pond sail boat tie-up mooring arm
Miniature fireplace tool set holder
Backyard wash-day laundry clothes-line post
High-tension wire electrical tower
Exclusive private school dual playground chinning bars
Ladies' handbag valet hanger
19th C. double arm clothes goffering iron
Upscale Beverly Hills street sign post
Dresser top necklace, bracelet and watch stand.
The preceding line-up includes the correct answer among nine impostors. Have fun.
See you next month. Till then!*
*Thanx to Buck Carson, Newton, N.J.
Answer to November's Guess What?
The answer for last month coincidentally covered not only Thanksgiving, but this month's Christmas holiday as well. As a poultry stuffing cage (turkey or chicken), it made it easy to remove all the stuffing in one mass as a complete entity, saving time and crumbling, messy break-up.
The accompanying photo shows the original box. "The Crowley Stuffing Cage" came in 3 sizes to accommodate various size poultry. Originated in Ft. Wayne, Ind.*
*Grateful thanx to Nancy Platnick, Bay Shore, N.Y.