Guess What Article for June 2003 The Journal of Antiques & Collectibles
By Bob Cahn, "The Primitive Man"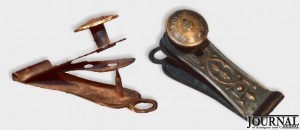 This month's GUESS WHAT doesn't take much effort physically. Mentally?… that's a different story. The amount of exertion required is in direct proportion to pinpoint execution – namely, the flexing of a fine-tuned thumb and forefinger. This coordinated technique – when applied to a basic mid-Victorian gadget – illustrates the classic bromide: "Keep it simple, Stupid!"
Dimensional references aren't important, since it's smaller than a bread box and only one hand is needed. A flat spring keeps it open for repetitive use. The hollow thumb lever has an embossed brass covering protecting a pointed spike.
Now it's time for the guessing to begin:
Is it a
Strawberry stem nipper
Practical jokers' balloon burster
Shipping department bubble wrap carton opener and slitter
Potato chip bag opener
Juicy-juice wax carton straw hole starter
Leather workers' belt hole punch
Bill spindle hole maker
Frozen bulk food vegetable package ripper
Conductors' transfer punch
Medieval bloodletting instrument.
We've saved number 11 – which is the answer – for next month!
See ya.*
Answer to May 2003 'Guess What?'
Some months the explanation is made visually easier by showing the object in use. Having a dual purpose, it serves as a combination folding bootjack/shoe shine stand. When folded flat, the open end acts as a bootjack for removing one's boots. This piece is so rare, it is only the second one to surface in 30 years. When first discovered years ago, it was mistakenly identified by this column as a railroad track- walkers emergency signal stand.*
* From the amazing in-depth bootjack collection of Bev and Rob Armbruster, of Brewster, NY. Our grateful and indebted thanks!
*available for acquisition