Guess What Article for May 2001
By Bob Cahn, "The Primitive Man"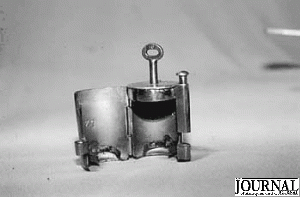 We've got something slightly smaller to challenge you with this month. It can actually be held in the palm of your hand, is nickel on brass and has an English pedigree. It opens and closes, is hinged, locks, and has a key. The manufacturer's inscription: "Her Majesty's Royal Letters Patent" – Thomas Turner & Co. – Wolverton – doesn't mean much unless you know what it means. Means little to us, but we were fascinated by its commercial application as well as potential entertainment fodder for the column. Dimensions: (closed) 11/2″ Diam. X 2″ H (excluding key); (open) 27/8″ w.
Get your mental gears in motion,while we offer some possibilities :
Portable traveling security ring and earring vault
Radioactive isotope vial carrier 3) Silver dollar coin lock box
Broken thumb splint and bandage protector
Winery cask bung hole lock
Bowling ball finger hole burglary guard
Artist's fine sable hair paint brush isolator and protector
Lipstick purse cosmetic container
Unauthorized liquor bottle pilfering and sipping lock restraint
Candle snuffer
Opium pipe bowl lock
Dynamite fuse and blasting cap security device
Inkwell and seal insignia cover
Roll postage stamp lock
Electric socket child proofing safety cap
Cigar pack lock for breast pocket humidor
Running mouth gag silencer and tongue restricter
Veterinarian's feline front paw medicine anti-licking prevention gadget
Signal flare gun muzzle-loading barrel lock
Chewing tobacco habit breaking spit control inducer
Prize bull semen stealth prevention and male chastity safety cap.
Our exhaustive Consumer Research Panel suggested we include the correct answer in our list of possibilities – which we did. First correct answer phoned, faxed, emailed or carrier pigeoned wins a year's subscription. Let the guessing begin!
Answer to April Issue Guess What..?
The pair of late 18th (early 19th) century forged blacksmith parallel bars was not early gymnastic apparatus as was facetiously alluded to -but a pair of outdoor community roasting spit frames. An open pit fire would be built and a pig or other meat would be mounted on a spit which rested and periodically rotated on the stanchions over the coals. This would be a large roasting event or occasion – too large for indoor accommodations!