Guess What Article for October 2002 The Journal of Antiques & Collectibles
By Bob Cahn, "The Primitive Man"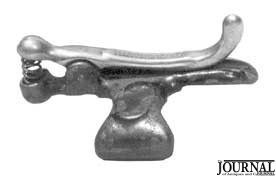 It's a clip, it's a clamp, it's a holder! There, we gave you the answer in advance; it's all of the above. Now can we return to our leisure time passion of identifying cloud formations while suds blowing at Oktoberfest?
For the curious among you who require more, here goes. It comprises the normal ingredients: a brass bar on a cast iron base, with a spring connection to control the pressure action. Toss in a referential dimension [4" long] and we're all set for our monthly head-scratching guessing game. It does have a rigid self-formed molded bracket on the back side.
Could it be:
Home kitchen recipe card holder
Retail stores "back-in-15-minutes" door sign fixture
Pizza parlor telephone order clip
Bank tellers money clamp
Stagecoach curtain tie-back
ffice workers' memo paperweight
Supermarket price card bracket
Venetian blind excess cord wrap-around clamp
Pony-tail hairstyle windy day braid clip
Cabbies' hack license holder.
If the parade of plausibilities passes you by, you have no recourse but to wait till next month, when the formal use will be revealed as the elusive number 11. Till then!
Answer to September 2002 Issue 'Guess What'..?
It's answer time – and when we tell you this device is an orchard extended high-reach peach picker – minus its 8 to 10 foot pole attachment and double set of rope lanyards to control the opening and closing process – you better believe it. But you do have the option of using it to fish errant golf balls out of the drink on water holes. It works great; we tried it!