by Donald-Brian Johnson
"Do you think that progress will be swayed
By the tea-kettle that this man has made?
This Iron Horse?"
 – Edward Hungerford, Railroads On Parade, 1939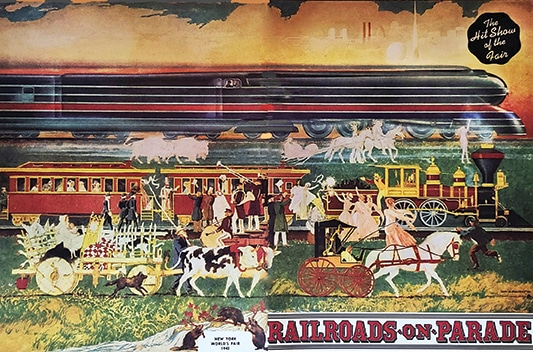 The theme of the 1939-1940 New York World's Fair was The World of Tomorrow – The Fair's biggest draw focused on the world of yesterday.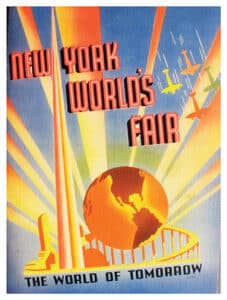 The pageant Railroads On Parade was the star attraction of an enormous Fair exhibit sponsored by the 29 lines that made up the Eastern Railroad Presidents Conference. Sprawled over 17 acres were 50 rail cars and engines; "Building the Railroad," a diorama detailing railroad construction; and "Railroads at Work," a lavish model railroad setup. Taking center stage (and a huge stage it was) was Railroads On Parade, an extravaganza unlike any seen before or after. At the conclusion of its two-season run, over two million audience members had thrilled to this recreation of the rail system's glory days, from its humble beginnings in the  mid-1800s, to "the modern railroad and the tremendous role it plays in the world today." Promotional brochures for the show pulled out all the stops:
"Critics acclaim it! Grown-ups and youngsters rave about it! Never before has such a show been presented on so vast a scale! Before your eyes on the world's largest stage, you see the most dramatic moments in the history of transport! Locomotives, old-time and modern, steam under their own power across the stage, and a Broadway cast of 250 rates cheers for drama, music, dancing, and comedy! Railroads on Parade is thrilling colorful entertainment—the greatest show at the greatest of all Fairs!"
In other words, Railroads On Parade was a show you would not want to miss.
The Little Engines That Could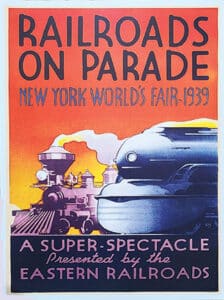 The World's Fair arrived at an opportune time for the railroad industry. During the Depression years of the early 1930s, profits had jolted to a stop, with over a third of American lines on the rails and forced to declare bankruptcy. Then, as Franklin D. Roosevelt's "New Deal" went into effect, the country chugged back to life, and so did the railroads. In 1934, Art  Deco-influenced "streamliners" made their debut, with travelers urged to treat themselves to this unmatched blend of luxury and convenience. Equal time was given to touting the railroad's reputation as the nation's transportation workhorse, delivering goods and raw materials from coast to coast. A massive World's Fair display provided an ideal means of celebrating railway successes of the past, as well as heralding its dreams for the future. The person charged with making those dreams a reality: Edward Hungerford, who billed himself as the "foremost railfan of the country."
Hungerford was no newcomer to the pageant trail. Previous assignments included the 1936-37 Great Lakes Exposition in Cleveland and the Chicago World's Fair of 1933-34.
For the 1939 Fair, Hungerford envisioned his biggest show yet – what he called "A Fantasia on Rail Transport." That "Fantasia" took some doing. In addition to the 250 cast members, there were 100 more people working as musicians and crew in the company.  And, unlike Andrew Lloyd Webber's train-centered musical Starlight Express, which debuted on Broadway decades later, the trains seen in Railroads were real ones. Instead of roller-skating actors decked out in train regalia, Railroads On Parade featured 20  actual steam locomotives clackety-clacking their way across the enormous double-tracked outdoor stage. Add in horses, cattle, canal boats, covered wagons, and Pullman cars, plus a cameo appearance by Abraham Lincoln and Hungerford had a pageant guaranteed to please.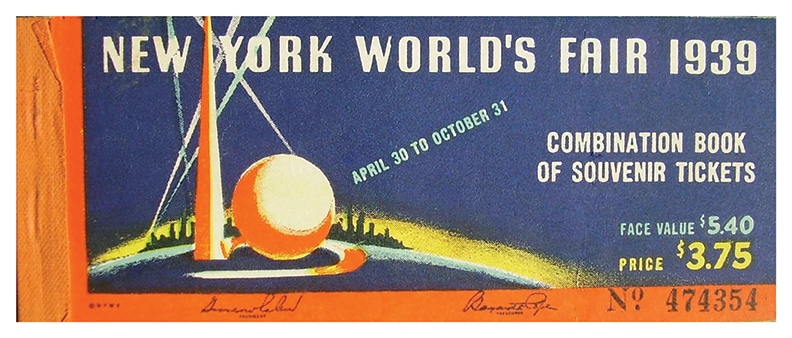 As one reviewer put it, "Railroads On Parade deserves a 21-gun salute!" Fairgoers added their own salute, pouring in for the 4-a-day performances. Tickets were just 25 cents for afternoon matinees, 80 cents for evening shows. With 4,000 seats filled at almost every presentation, Railroads readily made up its $2,500-a-day operating expense, justifying the estimated $3 million spent in creating the show and its exhibit environment.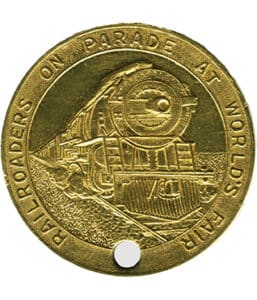 Hungerford's 70-minute epic began with scenes of pre-rail transportation (those ships and horses), and the first railroad (a horse-drawn car "gaily making its way from Boston Town to Dedham Plain"). History-making stops along the path to the present included "The Overland Trail;" "The Gold Rush;" "The Wedding of the Rails" (celebrating the completion of the first transcontinental railroad); and Lincoln's onstage moment in the sun, re-enacting his 1861 departure from New York en route to his Washington inauguration. (That scene featured a "March of the Patriotic Girls.") A somber follow-up note was added for the 1940 run, depicting Lincoln's funeral train and a crowd of sobbing mourners.
Eventually, the pageant pulled into "the modern terminal of today – the concourse of a large railroad station in the city of New York."  (A reviewer of the time enthusiastically described this as a "wild melee.") Another up-to-date note added for 1940: "Luxuryland," an "especially devised and constructed Pullman car, part  sleeper, and part lounge car." Star-to-be Betty Garrett enjoyed the lavish surroundings, while audiences enjoyed her mock-striptease to the tune of Pullman Blues, by noted Broadway composer Kurt Weill.
Tuning Things Up
Weill's participation in Railroads On Parade is one reason the pageant has continued to attract the interest of music and theatre lovers. A Weill score? For an outdoor pageant? At a fair? Why haven't we heard about this before? (More on that later!)
Acclaimed in his native Germany for his landmark The Threepenny Opera (Mack the Knife and that shark with all the pretty teeth, but no Bobby Darin), Weill was in the process of adapting his style for American ears. Coupled with original songs, such as Mile After Mile, were familiar folk tunes including This Train Is Bound for Glory and I've Been Working on the Railroad.
Weill dubbed Railroads On Parade a "circus opera" due to its musical and performance challenges. Onstage performers were impossible to hear over the combined noise level of locomotives,  wagons, and assorted livestock. The problem was solved by placing a performance ensemble and the orchestra underneath the stage.  The amplified sound was then piped through speakers that were situated throughout the theatre above. (Good diction was paramount: narrator Ellen Love speaks with all precision and enunciation of a time-and-temperature recording). As the songs and script blared forth around them, the onstage actors and singers lip-synched, so that none of those 4,000 rapt audience members missed a word or note.

Lost, Then Found
At the end of October 1940, fairground lights dimmed, and the New York World's Fair came to an end. Its shows posted their closing notices. After 671 performances, Railroads On Parade had reached its final destination. A manuscript of Weill's original score eventually found its way to the Yale University Music Library, and an abbreviated concert suite, based on themes from the score, became an occasional part of orchestra repertoires. The actual, ephemeral on-stage experience of Railroads On Parade, however, was long forgotten. Until …
In the early 2000s, Robert Martens ran across home movies of the Fair, taken by his grandfather, Gustave. Included in them: color footage of Railroads On Parade, taken during an actual performance. The brief film (just 5 minutes long) has been beautifully restored and shows a grand selection of moments from the show that critics hailed as "exciting and elaborate," "most thrilling," and "a fine stage spectacle." It's available on YouTube and is well worth seeing. Since it is a silent movie, an appropriately rousing underscore was added, from Ferde Grofe's World's Fair Suite. Why? Well, even though Railroads On Parade had been seen by more audience members than any of Kurt Weill's other, more famous works, no recording of his music for the "circus opera" existed. Until …
It happens in movies. It happens in storybooks. It never happens in real life.
Well actually, now and again it does. In 2007, New York collector Guy Walker, responded to a Craigslist ad for old records and books. Thumbing through the items on offer, Walker ran across four 16" acetate records marked "Weill—Railroads On Parade." Where the deceased previous owner ran across them is anybody's guess. But now, for just about a dollar a disc, they were Walker's.
Researching the title, Walker found plenty of info about the show, but none about a recording. Since the Fair was home to its own radio station, the best assumption by Weill experts is that the recording was made for broadcast, although there is no evidence the program ever actually made it on air. The 38-minute recording, capturing about two-thirds of the pageant, was digitally restored, and released on CD by Transcription Records. As for those original (and fragile) 16" disks, they now reside securely in the Stanford Archive of Recorded Sound.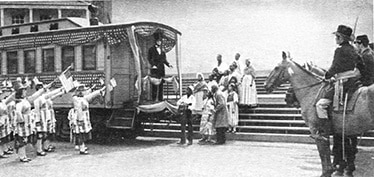 Train Of Thought
The souvenir show book for Railroads On Parade heralded the pageant's purpose:
This is the saga of the American railroad. The magnificent progress of rail transport in America for the last 110 years. Into every corner of our social and economic existence, the railroad is tightly interwoven. It is the backbone of the country. Even more, it is its veritable lifeblood. In its 250,000 miles of steel veins, it flows to every far corner of a far-flung land. It binds in its living, throbbing embrace, city and town and village, the open country, the forest, the mine, the forge, the factory, and the sea.

Railroads On Parade tells of what our national rail transport has achieved – is still achieving. It presents a picture of a glamorous past, and points toward a future not less significant. Never more than today, it stands upon a threshold of new achievement. A century-old institution of our America adapts itself to progress, to new ideas for its development, as rapidly as they offer themselves. The American railroad, if not in its infancy, still is in the full flush of health and strength; it looks forward, not backward. Its opportunities of service to the American people still are well-nigh unlimited.
View the video (
https://www.youtube.com/watch?v=WT8piY6kYNo
). Relish the recording. Ride the rails, as audiences did over 80 years ago when Weill and Hungerford and company paid tribute to the majestic and magical allure of … Railroads on Parade!
"Singing through the forest,
Rattling over ridges;
Shooting under arches,
Rumbling over bridges;
Whizzing through the mountains,
Buzzing o'er the vale—
Bless me, this is pleasant,
Riding on the rail."
– John Godfrey Saxe (as quoted in Railroads On Parade)
---
Donald-Brian Johnson is the co-author of numerous Schiffer books on design and collectibles, including Postwar Pop, a collection of his columns. Please address inquiries to: donaldbrian@msn.com. Photo Associate: Hank Kuhlmann