Guess What Article for June 2002 The Journal of Antiques & Collectibles
By Bob Cahn, "The Primitive Man"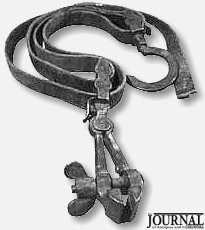 Getting a grip on things is what this month's "Guess What" is all about. We have an adjustable (wingnut allows for tightening or loosening) vise-like clamp just aching to come to grips with the situation. And a little aching on your part can possibly help you figure out it's specific function.
Made of steel and brass, it has rollers that allow for ease of controlling the length or slack of the leather straps – and ends up with a flat stylized hook. [Dimensional references: clamp – 91/2" L x wingnut – 25/8" L x vise jaws – 13/4" W plus yards of leather belting]
The R & D Dept. has come up with the following possibilities as well as impossibilities:
Oriental fingernail torture pull
Spring tension stretcher
Welder's clamp
Animal trap and/or anchor drag
Smoke- house meat curing carcass hanger
Book-binder's spine gluing clamp
Strongman's mouth-pull harness
Skeet shooter's clay pigeon launcher
Veterinary opthamogist's elephant eyelid lifter
Telephone lineman's cable connecting clamp.
We have not included the answer in the preceding list, so you'll have to wait for next month for the solution. Till then.
Answer to May 2002 Issue 'Guess What'..?
There are cherry pitters and then there are "cherry" pitters. This is a multiple cherry pitter so rare and so one-of-a-kind in the top echelon of mechanical collectibles and so museum in quality as to relegate most others to bargain basement status.
Place cherries in the position holes [ we only had artificial ones for demonstrating ], fold the frame closed and insert into the slot. With the hinged spike plunger poised in position, the downward thrust poked the pits from the cherry meat and left them free and clear. Really, a simple marvel of mechanical invention. Incidently, many cherry pitters were made to accommodate only one size or variety.*
* From the proud collection of Kooks members Bill and Rosemary Ulmer, Whitmore Lake, MI.