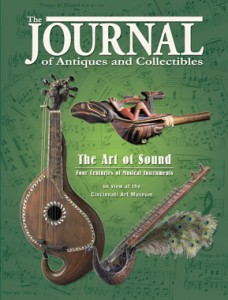 In this month's issue, the Cincinnati Art Museum takes us on a journey across the globe through musical instruments in The Art of Sound: Four Centuries of Musical Instruments. "The Halloween Queen" Pamela E. Apkarian-Russell is back with a piece on Daniel Low & The Salem Witches.
To read all of these great articles, along with favorites like "Ken's Korner,"  "The Business of Doing Business," "Gavels N' Paddles," and Geppi Entertainment Museum"s "Comic Book Characters & Collectibles,"  be sure to subscribe to the Journal of Antiques and Collectibles now!
Also, please take a moment to follow us on Facebook & Twitter. We are in the process of taking the necessary steps to upgrade the Journal Web experience for users like yourself! Be sure to bookmark the site or add it to your favorite RSS reader.
If you would like your antique and collectibles store, website, or antique/collectibles/auction services listed here, stay tuned. We are testing out new methods that are sure to please both advertisers and readers. Advertisers interested in appearing in the print edition, please view our current rates.
Note: it was erroneously noted that this issue would feature a piece on Antique Roller Skates. This article is due for the September issue.