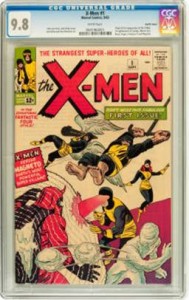 9.8-Graded X-Men #1 Highlight of Silver Age Marvel Collection at Heritage Auction – The Journal of Antiques and Collectibles – July 2012
Beverly Hills, CA – The multi-million dollar Doug Schmell / PedigreeComics.com Collection, featuring the single greatest grouping of Silver Age Marvel CGC #1 Registry sets ever assembled, realized more than $3.94 million on July 26 as the centerpiece of the vintage comic book offerings in Heritage Auctions' July 26 Vintage Comics & Comic Art Signature® Auction.
The top offering in Schmell's incredible grouping was the Pacific Coast pedigree X-Men #1 (Marvel, 1963) CGC NM/MT 9.8, which brought an incredible $492,938.
"I still can't believe the X-Men #1 9.8 went for nearly went for half a million dollars," said Schmell. "I can't thank the professional team at Heritage enough, especially Steve Borock, who helped me and my family through the entire selling and auction process, who answered every question we had. It was not an easy decision to sell these prized books, but Steve made the transaction much easier, exceeding all my expectations. Thank you to Heritage for promoting my collection, my website PedigreeComics.com, and for making the sale of the collection a very successful one."
Borock, for his part was sanguine about the amazing collection, the incredible price realized and the namesake of the grouping.
"This experience was especially satisfying, because Doug is a true gentlemen and a great friend," said Borock. "He's an expert's expert whose Silver Age Marvel collection was the best of the best and the comics, and the final prices realized, spoke for themselves."
Schmell has been putting his high-grade collection together for more than 20 years. A successful comic collector and dealer, he carefully and deliberately selected each comic and carefully selected Heritage when it came time to let go of his personal collection.
"Doug's company, PedigreeComics.com, is a respected and successful comic book venue in its own right," said Jim Halperin, Co-Founder and Co-Chair of Heritage. "In fact, I routinely bid on his web site for my own collection, so we all felt especially honored to have been chosen by such an esteemed colleague and competitor to auction his amazing personal collection."
Top individual title highlights besides the X-Men #1 9.8 Pacific Coast include Tales of Suspense #39 9.6 Pacific Coast (realized: $262,900), Avengers #1 9.6 Pacific Coast (realized: $274,850), Fantastic Four #1 White Mountain pedigree (Marvel, 1961) CGC NM- 9.2 (realized: $203,150), Journey Into Mystery #83 9.2 ($83,6550), Fantastic Four #4 9.6 (realized: $34,655), Daredevil #1 9.6 Twin Cities (realized: $28,680), Strange Tales #135 9.8 Pacific Coast ($17,328).

Heritage Auctions, headed by Steve Ivy, Jim Halperin and Greg Rohan, is the world's third largest auction house, with annual sales more than $800 million, and 700,000+ online bidder members. For more information about Heritage Auctions, and to join and gain access to a complete record of prices realized, along with full-color, enlargeable photos of each lot, please visit HA.com.
[amazon_carousel widget_type="SearchAndAdd" width="550″ height="200″ title="More on the Silver Age of Marvel Comics:" market_place="US" shuffle_products="False" show_border="False" keywords="Silver Age Marvel Comics" browse_node="" search_index="Books" /]