Ken's Korner: Abbey Road cover recreated from food
Ken's Korner
New and Views from the World of Antiquing and Collecting
by Ken Hall
British food sculptor Paul Baker has painstakingly recreated the iconic cover of the Beatles' Abbey Road album, using nothing but breakfast foods. He was commissioned by the Beefeater UK Grill restaurant chain, using cuisine from the eatery's menu (sausage, bacon, scrambled eggs, tomatoes, croissants, crumpets, hash browns, toast, fresh and dried fruit and cereal). John Lennon was made out of eggs, Ringo Starr from bacon, George Harrison from sausage and Paul McCartney (a vegetarian) from mushrooms.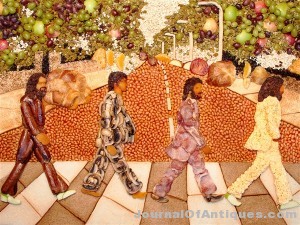 Titled Let It Bean (there are also beans in the creation), the artwork not only celebrates Beefeater UK Grill's extensive breakfast menu, it also serves to honor the 50th anniversary of the first time the Beatles recorded at Abbey Road Studios in London.
It is not the first food-inspired art Mr. Baker has made. His other food creations include renderings of Prince William and Kate Middleton kissing on the Buckingham Palace balcony, Winston Churchill holding up the two-fingered peace sign and the Queen's coronation in 1953.