Ken's Korner: Another Goodwill artwork discovery
News & Views From the World of Antiques & Collectibles
By Ken Hall
For the fourth time in six months, a sharp-eyed Goodwill shopper snapped up a piece of artwork for a fraction of its actual value. The most recent find: a lithograph by American artist Alexander Calder, purchased at a Goodwill in Milwaukee for $12.34 by Karen Mallett, a media relations specialist for Georgetown University. She told reporters she didn't even like the work, titled Red Nose, but when she saw Calder's name (which she did recognize) she smelled a deal and laid down her cash. The litho's real value: $9,000.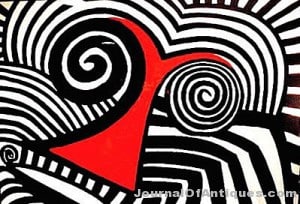 Goodwill employs 2,700 workers at its stores. They are taught to spot valuables so they can be sold on the organization's online auction site, where they would presumably fetch more. But they aren't art experts, so valuable works of art occasionally slip through the cracks. In 2012, a Salvador Dali sketch found at a Goodwill store in Tacoma, Wash., sold for $21,000; a painting bought for $9.99 at a Goodwill in North Carolina later brought $27,000; and a dusty old jug was determined to be an ancient American Indian artifact.