Ken's Korner: Barry Halper, baseball memorabilia collector – The Journal of Antiques and Collectibles – March 2006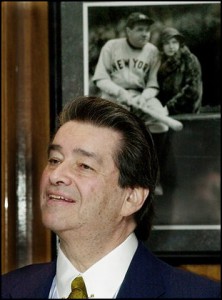 Until his recent death from complications of diabetes in December, Barry Halper owned one of the most extensive baseball memorabilia collections ever assembled. Halper, a limited partner in the New York Yankees, amassed some 80,000 items. A portion of it was acquired by Major League Baseball and donated to the Hall of Fame in 1998. In 1999, more of his collection was put up for sale in a weeklong auction at Sotheby's. It fetched a staggering $21.8 million, a record at the time.
In that sale, comedian Billy Crystal purchased a game-used Mickey Mantle glove, for a cool $239,000. Halper owned uniforms of many Hall of Famers, like Ty Cobb, Walter Johnson,Cy Young and Mickey Mantle; an original ticket from the first World Series in 1903; the jersey Lou Gehrig wore in his 1939 farewell speech at Yankee Stadium; Ty Cobb's false teeth; the contract finalizing the sale of Babe Ruth from the Boston Red Sox to the Yankees in 1919; and a Honus Wagner baseball card.