Ken's Korner: Bird drawings pre-date Audubon's by 200 yrs. – The Journal of Antiques and Collectibles – June 2006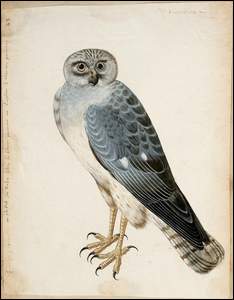 In late 2003, Roberta Olson, a curator at the New York Historical Society, was examining four large leather-bound albums of paintings, where they had been since at least 1899. The volumes, labeled "anonymous 18th century European birds," had been largely ignored. But Olson suspected she had something special, and she was right. The drawings, all by French illustrator Pierre Eskrich, were painted (mostly in watercolor, pastel and ink) a full 200 years before James Audubon's works.
Olson set about cataloging the holdings, and recently two of the books went on display (in conjunction with an exhibit of40 original watercolors from the society's Audubon collection). The albums depict, in astonishing detail, falcons, bramblings, pheasants, a northern bald ibis, and other European species painted from still life or specimens. After nearly 500 years, they are in near-perfect condition. Eskrich did his painting in Switzerland, having fled religious persecution in France.