Ken's Korner: Coming in 2007 — presidential dollars – The Journal of Antiques and Collectibles – February 2006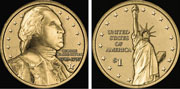 The U.S. Mint, hoping to cash in on the same success it has enjoyed with the state quarters program, will start producing dollar coins with portraits of former presidents on them. Four coins will be issued each year, beginning in 2007. They will be in order (Washington first, etc.). The dollar coins could become popular with collectors, as the state quarters have become. The state quarters program ends in 2008, with Hawaii. Sacagawea dollars, made since 2000, have been unsuccessful.
Like the Sacagawea dollar, the presidential coins will be gold colored. No living presidents will appear on the coins. The Mint will make commemorative coins of the presidents' wives (they will be 24-karat gold, the highest quality ever used). The reverse side of each coin will feature the Statue of Liberty. Grover Cleveland will appear on two coins. The reason? He served two terms as president, but they were non-consecutive terms. Each dollar coin will cost the Mint about 22 cents to produce.