Ken's Korner: Early piece of human artwork is scrutinized
News & Views From the World of Antiques & Collectibles
By Ken Hall
A 14,000-year-old reindeer antler found in the 1800s and engraved with parts of a figure of a horse, is one of the earliest pieces of human art ever discovered. The artifact has been kept in the National History Museum in Britain for decades, but only recently has it been scrutinized by modern science. Using a micro-CT scanner and 3D microscopy, a team of researchers found evidence that the antler had been prepared before being carved, and that the creator made an incision and then repeatedly scratched it to enlarge the engraving.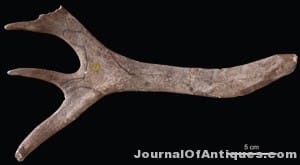 They also could determine that the outline of the horse's body and head had been scratched out first, then anatomical features were added later. All this is significant because it shows that humans at that time – and we're talking about stone age hunter-gatherers, living toward the end of the last Ice Age, before agriculture and the domestication of animals – were nonetheless skilled technicians And artists. The oldest examples of representational art are the ivory figurines from sites in Germany that date back 35-40,000 years.