Ken's Korner: Gangster guns bring big dollars at auction
Ken's Korner
News & Views from the World of Antiques & Collectibles
By Ken Hall
Guns connected to big-name gangsters brought big-time dollars at a pair of auctions held almost simultaneously but 3,000 miles apart. In Nashua, N.H., two guns found on the bodies of Bonnie and Clyde when they were killed by police in a hail of bullets (shown) brought $504,000. The weapons were part of a sale that featured 134 items, about two-thirds of them from Bonnie and Clyde, but also from other notorious criminals. The names included Al Capone, Pretty Boy Floyd and John Dillinger. The auction grossed $1.1 million.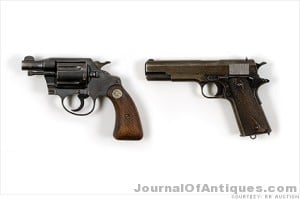 Meanwhile, across the country in California, a .45 caliber gun owned by Butch Cassidy sold at auction for $175,000. The Colt Single Action Army revolver was accompanied by a black leather shoulder holster, plus two binders filled with documentation attesting to the weapon's authenticity. The buyer was a collector who bid online and wished to remain anonymous. The gun was known as the "Amnesty Colt," because Cassidy turned it over to authorities in Utah in 1900 in a bid for amnesty. He was unsuccessful in his bid.