Ken's Korner: Grand Central Terminal celebrates its first century
News and Views from the World of Antiquing and Collecting
By Ken Hall
Grand Central Terminal in New York City is a magnificent facility, boasting Beaux Arts architecture to impress the estimated 750,000 visitors who pass through the train hub each day. On February 2, Grand Central turned 100 years old, impressive in itself considering it was nearly torn down and suffered through decades of neglect before an ambitious, $500 million restoration returned it to its original splendor. In the 60s, a skyscraper was proposed for the site, but a group led by Jacqueline Kennedy Onassis came to the rescue.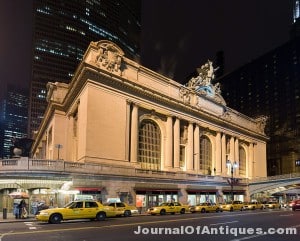 Grand Central Depot, which preceded Grand Central Terminal, opened in 1871, after the industrialist Cornelius Vanderbilt bought the property between 47th and 48th Streets and Madison and Lexington avenues, in the heart of midtown. But in 1902, after two trains collided in the Park Avenue tunnel, killing 15 people, the original station was demolished and replaced, at a cost of $80 million. Remarkably, there is an $8.2 billion project underway to build a new terminal under the existing one. That facility will be completed in 2019.