Ken's Korner: 'Ice House Cover' surfaces in Chicago – The Journal of Antiques and Collectibles – May 2006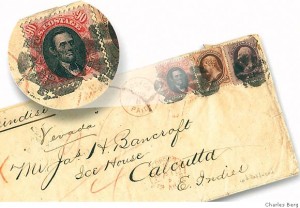 A 90-cent 1869 stamp known as the "Ice House Cover" has turned up at a stamp shop on Chicago's North Side nearly 40 years after it was reported stolen in Indianapolis. The stamp was used on a letter with two other stamps in 1873 and features Lincoln's picture framed by a colored border. The envelope — or "cover" — is marked with cancellation imprints and hand-scrawled notes from each stop along its journey from Boston to "Ice House, Calcutta, E. Indies" (hence the name).
The stamp was stolen in 1967, along with hundreds of thousands of dollars' worth of other stamps, from the collection of J. David Baker in Indianapolis. The FBI said it has no plans to charge the couple that brought the stamp into the Chicago shop; they told authorities they found the cover in a dead relative's attic. Untangling who the "rightful owner" is could be tricky, as Bake is deceased. If it goes up for auction, as is expected, philatelic experts say the bidding would start at $250,000.