Ken's Korner: Kate Moss tattoos are worth millions!
News & Views From the World of Antiques & Collectibles
By Ken Hall
When the late artist Lucian Freud (who died in July 2011 at age 88) was told supermodel Kate Moss named him as the person she'd most want to meet, he phoned her up and said let's get together. The two became fast friends, and one night Freud told her about how he used permanent ink and a scalpel to give the other sailors tattoos when he was in the Merchant Navy during World War II. Moss was impressed, and when Freud offered to tattoo her, she jumped at the chance. The result — two tiny swallows at the base of her spine.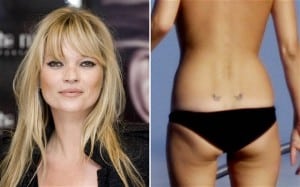 "It's an original Freud," the 38-year-old beauty enthused recently, recounting the story. "I wonder how much a collector would pay for that – a few million?" Wait, there's more. Freud also began painting Moss in the nude when she became pregnant with her daughter, Lila Grace. At first she thought it would be a brief sitting, but she ended up posing from 7 p.m. to 2 a.m., every night, for the full nine months of the pregnancy. The painting – an enormous rendering – was sold at auction to an anonymous bidder for about $5.7 million.