Ken's Korner: London Gallery will try to buy Donne portrait – The Journal of Antiques and Collectibles – April 2006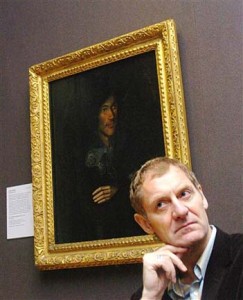 London's National Portrait Gallery said it will try to come up with asking price of $2.94 million to buy a 1595 portrait of the late poet John Donne, best known for the lines "No man is an island" and "For whom the bell tolls." He died in obscurity in 1631. The gallery has six months to come up with the money, or the owner — an unidentified private family — will withdraw the offer. The portrait depicts Mr. Donne with piercing eyes, sensual lips, a large hat and a suggestively unlaced collar.
The poet laureate Andrew Motion (shown here in front of the portrait), said of the painting, "Broodingly suggestive of Donne's intellectual figure as well as his witty sensuality, it is also a picture of great intrinsic beauty and the bewitching evocation of an age." He added, "The National Portrait Gallery is its natural home. The picture is cheap at the price, and if we don't buy it, someone else will." The portrait is on loan for an exhibition of Shakespearean art that began in March in London.