Ken's Korner: Six men are on trial, but where's "Scream?" – The Journal of Antiques and Collectibles – April 2006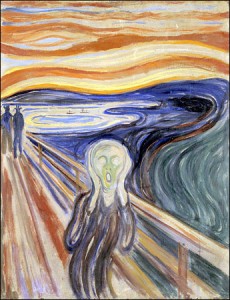 On the morning of August 22, 2004, two men wearing hooded disguises burst into the Munch Museum in Oslo, Norway, and made off with a pair of works by Edvard Munch: "Madonna" (a lush, erotic portrait of a long-haired, bare-breasted woman) and "The Scream" Munch's iconic embodiment existentialist horror, angst and despair. Together, the paintings are valued at anywhere from $40 million to $100 million, But the truth is, such paintings are far too famous to be sold in the open.
Today, nearly two years later, the trial of six men is underway, all of them charged with stealing the works. But police still don't have the paintings themselves, and there are no clues as to their whereabouts. For months after the robbery, authorities waited for a ransom demand, but none came. A series of tips led to the arrest of Petter Rosenvigne, 38, who was charged with selling the getaway car to the thieves. That led to the arrest of the other five, who have been named as accomplices.