Ken's Korner: Lost Diego Rivera found on "Roadshow"
News and Views from the World of Antiquing and Collecting
By Ken Hall
A lost work by the Mexican painter and muralist Diego Rivera was brought to the Corpus Christi, Texas, taping of TV's "Antiques Roadshow" and appraised for between $800,000 and $1 million. Corpus Christi resident Rue Ferguson's great-grandparents bought the painting (titled El Albanil – The Bricklayer — done in 1904 when Rivera was still a teenager in Mexico) around 1920. They thought it was a fake and for 30 years kept it behind a door in their home. Ferguson took ownership of the painting when his mother passed.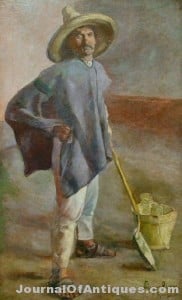 In the early 80s, Ferguson's father found out the work was real and had it restored, but no one had a clue as to its value. The family then donated it to the McNay Art Museum in San Antonio for several years, but when Ferguson found out the museum wasn't displaying it he asked for it back. For years after that it sat in a box in the corner of his office. When he found out the Roadshow crew was taping a segment in town, he dusted off his treasure and later learned the good news. The painting is now safe inside a bank vault.