Ken's Korner: Mammoth, mastodon finds in France, U.S.
News & Views From the World of Antiques & Collectibles
By Ken Hall
Eric Stamatin and his cousin Andrew Gainanu, both 11, were exploring the wooded backyard of Eric's family property in suburban Detroit when they came upon something they initially took for an odd-looking rock. But they brought it back home and showed it to Eric's father, a doctor, who recognized it as a bone – a very old bone. He contacted paleontologist John Zawiskie, who confirmed the find as a bone from a 13,000-year-old mastodon (shown), the elephant-like creatures that went extinct around 12,000 years ago.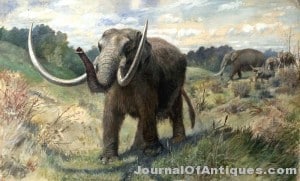 Meanwhile, over in France, archaeologists there have unearthed a nearly complete skeleton of a mammoth, a creature that roamed the Earth between 200,000 and 50,000 years ago. It was just the third remains of a long-haired woolly mammoth discovered in France in the past 150 years. The find was quite accidental; the archaeologists were excavating an ancient Roman site about 30 miles east of Paris. Now they will go about the task of trying to figure out whether the long-tusked mammoth drowned or was killed by Neanderthals.