Ken's Korner: Mayan pyramid bulldozed for fill
News & Views From the World of Antiques & Collectibles
By Ken Hall
Incredible as it may sound, one of the largest Mayan pyramids in all of Belize – a 100-foot-tall mound dating back at least 2,300 years – has been destroyed by a construction company that wanted to extract the crushed rock for fill in a road-building project. The pyramid once served as a ceremonial center at the Nohmul complex in northern Belize, not far from the Mexican border. Belize is a country that is largely covered in jungle, but has hundreds of Mayan ruin sites. Few, however, are as large as Nohmul.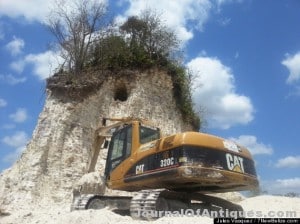 Remarkably, the problem of construction companies bulldozing Mayan mounds for road fill is fairly common. And it isn't limited just to Beliz. Ancient sites spanning the Mayan empire, from southeastern Mexico down through Guatemala, Honduras and Belize, have lost precious pyramids at an alarming pace since the 1970s, when construction projects proliferated. The bulldozing occurs on private lands, but police can press charges. Belizean law says that any pre-Hispanic ruins are under government protection.