Ken's Korner: Mural by Banksy brings $1.1 million
News & Views From the World of Antiques & Collectibles
By Ken Hall
A mural by the mysterious guerrilla graffiti artist known as Banksy (his real identity is a closely guarded secret) has been sold at a private auction in London for $1.1 million. The mural, titled Slave Labour, depicts a young boy hunched over a sewing machine and stitching Union Jack bunting. Banksy (or one of his minions) stenciled the work on the wall of the Poundland discount shop in the Wood Green section of London last June. The mural was posted ahead of Queen Elizabeth II's Diamond Jubilee celebrations.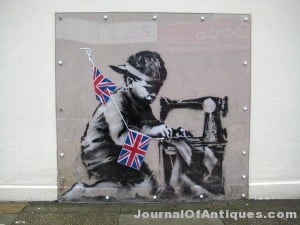 In February of this year, the mural was stripped off the wall, and less than a week later it appeared at Fine Art Auctions Miami, with a price tag of $500,000-$700,000. This resulted in a loud cry of protests from art purists that reached such a crescendo the auction was called off. But several months later, the London-based Sincura Group listed the mural for sale, with the two proprietors of Wood Green Investments named as sellers. The buyer was not identified. Banksy opposes the removal of his artwork from the street.