Ken's Korner: Necropolis, Trojan relic to highlight Vatican exhibits – The Journal of Antiques and Collectibles – May 2006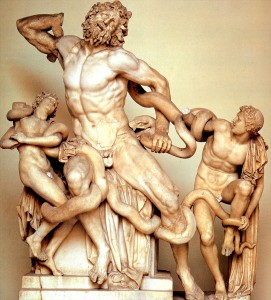 A well-preserved necropolis discovered in 2003 during excavations inside Vatican City will be one of the highlights of a series of exhibits, conferences and guided visits marking the 500th anniversary of the Vatican Museums, one of the most famous museums in the world. The necropolis site contains burial chambers, tombs and funeral altars dating from the first century A.D. The Vatican said the find was second in importance only to the relics of St. Peter, under St. Peter's Basilica.
The centerpiece of the event figures to be a show surrounding the 1506 discovery near the Colosseum of the Laocoon (shown) — a marble statue dating from 30-40 B.C. It depicts the Trojan priest who was killed with his sons by a sea serpent for warning the people about the Trojan horse. When the statue was dug up, Pope Julius II bought it and had it carted to the Vatican. That forms the origins of the Holy See's vast collection of art and antiquities on display in the Vatican museums.