Ken's Korner: Roman cavalry helmet on display in England
Ken's Korner
New and Views from the World of Antiquing and Collecting
by Ken Hall
A 2,000-year-old bronze Roman parade cavalry helmet found by a metal detector enthusiast in England just two years ago and later sold at Christie's in London for $3.2 million, has gone on display for the first time, at the British Royal Academy. The Crosby Garrett Helmet, named after the village near where it was discovered in May 2010, is one of only three of its type ever unearthed and is being described as "…one of the great masterpieces of Roman metalwork." It would have been worn for cavalry sports rather than battle.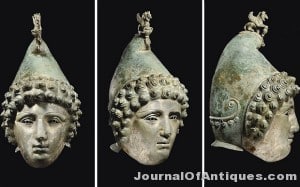 The helmet, showing a facemask with an impassioned expression, is part of the Royal Academy's "landmark exhibition" titled, Bronze, (a section of the exhibition is dedicated to the complex process of making bronze, an alloy consisting mainly of copper and small amounts of tin, zinc and lead). Other pieces in the exhibition include the severed head of King Seuthes III (excavated in Bulgaria eight years ago and never before seen in Britain) and the 14th century BC bronze and gold Chariot of the Sun, unearthed in Denmark.