Ken's Korner: Sharpie raises money with 'Autographs for Education' – The Journal of Antiques and Collectibles – January 2006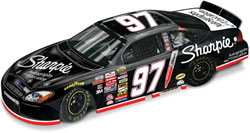 Usually, the common folk seek out the autographs of the rich and famous. But the opposite is true with Sharpie markers' "Autographs for Education," in which noted celebrities appear at festivals and special events in search of as many "autographs" of their fans as possible. In exchange for the signatures the stars collect, Sharpie donates $10,000 in funding and supplies to school districts nationwide. Singer Jo Dee Messina and NFL star Terrell Owens, among others, have participated.
Throughout the year, a fleet of Sharpie-branded all-terrain vehicles have made pit stops in cities like Las Vegas, Boston, Baltimore, Milwaukee, Dallas, Detroit, Chicago and Miami. The vehicles feature interactive games, product sampling and entry forms for the signature collection effort. Other participating celebrities include NASCAR driver Kurt Busch (car shown), NFL Hall of Famers Howie Long and Dan Dierdorf, PGA Tour standout Chad Campbell and baseball star Brian Roberts.