Ken's Korner: Sports memorabilia trove found in Massachusetts – The Journal of Antiques and Collectibles – April 2006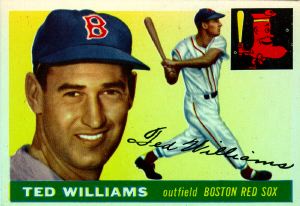 John F. Hessian lived his entire life in a modest home on Granfield Avenue in Rosindale, Mass., near Boston. But when he died recently at 83, no one, not even his closest relatives, knew of the treasure he was keeping there: four truckloads — about 500 boxes — of baseball, football and hockey cards dating back to the 1940s and worth an estimated $1 million. Hessian also had more cards — the most valuables ones — in a safe deposit box, but no one is quite sure of the location.
The cards include a Topps 1955 Ted Williams card (shown, worth $600) and a Roberto Clemente card from the same year (worth $2,000). Numerous Mickey Mantle cards were also in the stacks. Boston police had to be called in to guard the house, which has been condemned. Hessian was a packrat of epic proportions; the trash in his home was piled six feet high, making the job of finding and boxing the valuable stuff all the more daunting. Relatives are attempting to locate a will.