By Douglas R. Kelly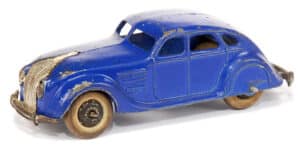 There's an old saying among collectors that is more than just an old saying: "It's not so much the toys/paintings/table clocks that matter … it's the friends you make along the way." In my experience, truer words were never uttered. More than 30 years ago, I had the good fortune to meet and become friends with New York collector Gates Willard, an avid and generous enthusiast of American, British, and European toy cars. Gates had been playing with and collecting Tootsietoys, Minics, Bings, and other makes on and off since he was a kid in the 1930s, and a visit to his toy room was like walking into Aladdin's Cave.
He surprised me during one such visit when he showed me several pre-World War II Dinkys. I had a bit of familiarity with these English toy cars, made by Meccano Ltd. in Liverpool, and I thought of them as being more or less classic British marques like Austin and Bentley, and Hillman. But the Chrysler Airflow that Gates showed me got my attention, not only because it was an Airflow (the shape of which I love) but also because it was an American marque. And, like many other Dinkys, it was a fairly accurate replica of the legendary Chrysler.
Meccano Ltd. Crosses the Pond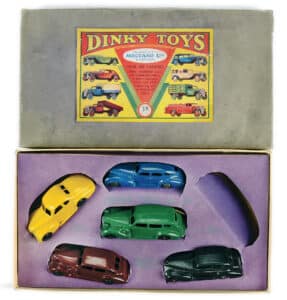 Meccano included several American cars in the Dinky line before the war, with the Airflow getting things rolling toward the end of 1934, as part of what was called the 30 series. It was the only American entry in the 30 group, the others included names like Daimler and Rolls-Royce. But it paved the way for Meccano to widen the American lens four or five years later when they debuted the 39 series of Dinky Toys in (fittingly) 1939.
The 39 series included a Lincoln Zephyr, an Oldsmobile, a Packard, a Buick Viceroy, a Studebaker Commander, and a Chrysler Royal. They could be purchased individually from countertop "trade" boxes, and, as with other Dinky series, the six cars also were available together as a boxed gift set. Unlike the 30 series Chrysler, each of the 39 models came with a tinplate baseplate, which had the name of the car on it. For the time, these were very accurate models, and today, they just shout "1930s America," but with the added twist of somewhat muted paint colors, as was Meccano's (very British) way at that time.
From Lead to Zinc
Initially, the company used a lead alloy to make Dinkys, then switched to a higher-quality zinc alloy, called mazac. However, if there were trace amounts of other metals, known as impurities, present in the mazac, severe deterioration can occur in the bodies of the cars, resulting in what's called "fatigue." This kind of damage takes the form of warped body panels and cracks in roofs and running boards. In advanced cases, the toy is literally crumbling away.
By the time the 39s made the scene, Meccano seemed to have solved the metal impurities problem, as it's usually the earlier Dinkys that suffer from fatigue. But several years ago, Andrew Reed, who was with Vectis Auctions in England, told me something that surprised me. He said that a lot of collectors, both here in the U.S. and elsewhere, won't buy a pre-war Dinky if it means shipment by airmail, and that's not because of rough handling by the post office. "When you send a pre-war that way," he told me, "unless you've insulated it, really over-packaged it, as soon as it goes into the hold of an aircraft, it will expand in the cold, because of the lead content in the toy. When it gets back down on the ground again, of course, it gets warmer, and so many pre-wars get damaged that way. When we send them out, we have to include special insulation to ensure they don't get cold."

That may not be a concern if you do business with an American auction house like Lloyd Ralston or Hakes, but know that the vast majority of pre-war Dinkys turn up in worn condition. A battered 39 series model with lots of chipping to the paint will often go begging at the $50 to $75 price level, while an original (no repair or restoration) near mint or better example of the same car can bring anywhere from $200 to $500. Not surprisingly, reproductions of a couple of the 39 series models—the Packard and the Studebaker—have been produced, by an outfit called Atlas Editions, including repro boxes (which the pre-war Dinkys didn't have). Made in China, these re-creations are pretty faithful to the original Dinky 39s and are made to a high standard.
Kids living in the U.K. in the 1930s wouldn't have seen many Lincolns or Buicks in the flesh, but these American models for the most part weren't aimed at the home market. Many were shipped to the U.S., where American kids naturally gravitated to them in toy shops and department stores.
---
Douglas R. Kelly is the editor of Marine Technology magazine. His byline has appeared in Antiques Roadshow Insider; Back Issue; Diecast Collector; RetroFan; and Buildings magazines.