Collecting in the Big League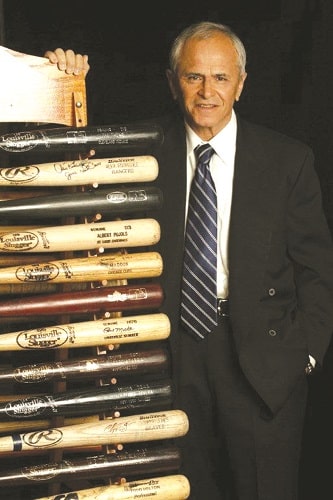 Advice for the Investor Collector from Marshall Fogel
In an interview with JOA Publisher Maxine Carter-Lome, Marshall Fogel offers serious collectors advice for building a major league baseball collection

In the world of baseball, there is probably no more enviable private collection than that owned by Marshall Fogel. It's as legendary among sports collectors as the icons it showcases.
Fogel became an investor collector in 1989 when he attended a sports convention in Chicago. "The sports items I viewed in Chicago piqued my interest in collecting on a more serious level. If you can't excel at the game, you might as well collect the sports heroes who can."
"Baseball represents the singular hero. Who doesn't remember Babe Ruth, Lou Gehrig, Mickey Mantle… Back when, baseball brought everyone together from different backgrounds for a common cause. A baseball field provides the perfect experience. You collect for these feelings that represent a piece of American history."
Fogel's collection showcases the history of baseball – bats, cards, photographs, pins, books, magazines, advertising pieces, "A broad array of beautiful things that describe the history of the sport." Prized items from his collection have been on display at the Denver Art Museum, featured in the book Smithsonian Baseball, and can be seen today at the Yankee Museum at their new stadium in New York.
"It's been an honor to have items from my collection be of value to the Yankees and displayed in their museum." In addition, Fogel co-authored with Henry Yee the book A Portrait of Baseball Photography, showcasing the nationally recognized authentication process of dating the time photographs were taken, and whether they are originals or copies. The book also includes biographies of important sports photographers.
With such an extensive collection, what is Fogel's most prized possession? "Lou Gehrig's 1938 game-used bat inscribed To Jerry, may you use this to better advantage than I did, Lou Gehrig. Anything he signs is important." And the #1 item on his wish list? "A Gehrig uniform. I could sleep better [with that in my collection]."
So what advice does Fogel have for the serious collector?
Take the time to learn about the item you are purchasing.
"Don't get caught up in the excitement of what you read about the player or team. Stay focused on the authenticity of the item you're buying."
Find mentors – collectors that can help you understand and authenticate what you are buying.
"You need a mentor to learn what you are doing and not rely on the facts promoted in auction catalogues. You're buying a product. The dealer and auctioneer are not responsible for your selection."
Collect horizontally, not vertically.
"For example, if you collect all Brooklyn Dodgers items, you're going to end up with a lot of substandard collectibles with minimal or no market value. The best strategy is to collect horizontally – skim the top & buy the best you can afford across numerous subject matters."
Stay ahead of the game.
"Study price guides and previous auction prices. The majority of auction companies publish past auction prices on their web site. In this way, the collector can follow price changes over periods of time. Then, when a similar item comes up for auction, they can make well thought out decisions as to whether the price is right, and it's a good investment. For example, a mint graded 1955 Topps b baseball card of Roberto Clementi in the 1990s sold for $2500. Today that card has the value of over $125,000."
Condition matters.
"There is a substantial difference in value between items in 'very good condition' as opposed to the same item in 'near mint to mint condition.'"
Collect players that are no longer living; whose record and personality are already defined.
"Don't get excited about a modern day player that may be headed for the Hall of Fame because a lot of these players crash and burn."
Letters of authenticity (LOA) are not guarantees of anything.
"They are not insurance, they're an opinion. They should be called Letters of Opinion. Do your homework & look for clear and convincing evidence that what you are purchasing is authentic. Words like 'could be,' 'possibly be,' 'might be,' that are included in letters of authenticity or opinion do not meet the clear and convincing evidence test. Either it is or it isn't."
You don't have to spend large sums of money.
"To obtain value, one doesn't have to spend large sums of money on collectible items. There's value in items that are affordable but appreciate; however, high end sports material will probably continue to grow in value."
Collecting in the Big League