Second major toy collection in sale includes rare lunchboxes, many rated a perfect 10
DENVER, Pa. – Anyone assuming they've seen the last of the great early collections of toys, trains and dolls may have to readjust their thinking September 10-12 when Morphy's auctions a long-held trove amassed by the late Katie and Paul Hedburn.
The Chicago couple began their collecting journey around 60 years ago, before there were specialty shows for dolls and toys, and certainly long before the Internet.
"If the Hedburns had a motto, it was to buy and keep on buying, but never sell," said Jay Lowe, head of Morphy's Doll division. "Most of the dolls in their collection were purchased in the 1960s and '70s from dealers who set up at general antique shows around Chicago. That was a time when obscure dolls could still turn up on a dealer's table. Probably 80 percent of the Hedburns' dolls were sourced from two dealers, in particular, who came up from the Kansas City area to sell at those Chicago antique shows."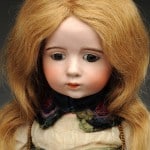 The Sept. 10-12 cataloged sale will feature around 120 fabulous dolls from the Hedburn estate collection. A premier highlight is an 22-inch A. Marque girl, one of supposedly only 100 boy/girl doll pairs produced in the early 20th century, the golden age of French and German character dolls. Charismatic and desirable, A. Marque dolls were created by French sculptor Albert Marque (1872-1939) under commission to French couturier Jeanne Margaine-LaCroix, who designed their outfits. It is believed that only around 20 to 30 A. Marque dolls exist today. The circa-1914 A. Marque in Morphy's sale is all original and dressed in Swiss provincial style. It is estimated at $100,000-$200,000.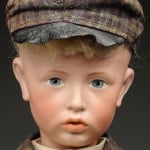 Another treasured doll from the Hedburn collection is an Oriental Bru, one of six or seven Brus entered in the auction. A spectacular earlier version, the doll has Asian facial features and olive coloring. It is dressed in what appears to be its original kimono. Lowe expects the doll to sell for $25,000-$35,000.
Several wonderful Kammer & Reinhardt dolls will be auctioned. Among them are an all-original 22-inch K*R 107, typically referred to as "Karl," estimated at $20,000-$30,000; and the largest-size K*R 109 "Elise." The latter doll, marked "60cm" on its head, is estimated at $8,000-$12,000. Additionally, bidders may choose from beautiful early Schmitts ($8,000-$10,000), Steiners ($3,000-$5,000) and F.G. (Francois Gaultier) dolls; as well as 30+ examples of German bisque, wigged bathing beauties.
By the 1980s, the Hedburns had become interested in trains, which they avidly pursued. Rather than focusing on a single gauge, the Hedburns took a more comprehensive approach, seeking out standard and O gauge, and European 1, 2 and 3 gauge trains.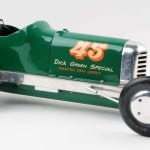 "They acquired many nice, early Carlisle & Finch, Boucher and Voltamp productions, including a big Suburban Trolley, freight cars, engines and tenders," said Tom Sage Jr., head of Morphy Auctions' Toy & Train division. "The collection also contains American Flyer, Ives and Lionel trains, but I believe the European trains – the Bings, the Marklin 20th Century Limited cars made for the American market, and the odd-lettered, hand-painted Marklin cars – are going to do especially well." European highlights include a rare, early Carette 2350 engine and tender; a fine Marklin train station and several Marklin and Bing trains with provenance from the legendary Ward Kimball collection.
The revered American brand Ives is represented by early passenger and freight "inboard" truck cars, including livestock cars and cabooses; train stations, and both a 40 and 41 passenger set with European styling. "Those two sets – the 40 and 41 – only rarely come to market. They're generally found only in old collections, where they remain for decades," Sage said. Other American rarities include Lionel trolleys in scarce boxes.
A second collection from a highly selective Midwest buyer was the source for more than 50 gas-powered racecars, primarily Doolings; Japanese motorcycles and airplanes; and a fleet of coveted Japanese cars from the 1950s and '60s. The latter selection includes an ultra-rare red Chrysler Imperial, a rare Lincoln, 1954 Chevrolet and many gleaming Cadillacs, all in their original factory boxes.
The same private collector – who is scarcely known in the hobby but who always bought the best of the best from a few discreet dealers – also consigned several trains to the auction. They are led by a Lionel No. 773 Hudson set with Madison cars in individual boxes within a larger set box; and a Girard Set 392 with Lionel loco/tender and Stephen Girard Liberty Bell and Coral Isle cars.
He also amassed an enviable collection of approximately 50 boxed comic character, Western and outer-space-themed watches. Highest estimated within the group are a Superman watch, Buck Rogers pocket watch and boxed Mickey Mouse watch.
The incredible collection of lunchboxes rates very highly with Sage, who described the boxes as "mostly 10s and none less than a 9 out of 10 – the best lunchbox collection I've ever seen." There could be heated competition over boxes depicting Superman, Underdog, the Jetsons, and all four Beatles. "Some will do five figures, and it's my guess that the Superman lunchbox could land in the $8,000 to $12,000 range," Sage said.
Other specialty collections include mint/boxed cap guns, Japanese toy boat motors, German tin wind-ups, pressed steel and comic character toys; robots and space toys; and numerous boxed Western Hartlands and baseball nodders. Many outstanding large-size racecars will cross the auction block, including a boxed Gunthermann Bluebird, a boxed Champion, and a French-made "Gem" with richly graphic, near-apocryphal original box.
Morphy's has become a second home to collectors of antique and vintage marbles. The lineup organized for Sept. 10-12 is dazzling, with highlights such as a 1-3/32 inch diameter onionskin with a perfect scattering of blizzard mica, $6,000-$9,000; a fabulous 1-59/64 inch diameter black clambroth with 17 white bands, $4,000-$6,000; and a 2½-inch English-style swirl with bright, four-ribbon divided core, $4,000-$6,000.
Morphy's Sept. 10-12 Toy, Train & Doll Auction will begin at 9 a.m. Eastern Time. All forms of bidding will be available, including in person at the gallery, by phone, absentee or live via the Internet through Morphy Live or LiveAuctioneers. Tel. 717-335-3435; email info@morphyauctions.com. Online: www.morphyauctions.com.
Morphy's to auction early trains, horse-drawn toys and rare dolls from 60-year Paul and Katie Hedburn collection, Sept. 10-12