A new record was set at the International Perfume Bottle Association's (IPBA) 27th annual convention April 30 to May 3, 2015 in Spartanburg, South Carolina.
One of the convention highlights was a lively perfume bottle auction with celebrity, Nicholas Dawes, from Antiques Roadshow, as auctioneer. The IPBA hosts the longest running specialty auction of perfume bottles in the U.S. at the annual convention and this year the auction set a new overall record high of over a half million dollars. One very special perfume bottle went for $66,000; a 1957 Christian Dior Limited Edition presentation, "J'appartiens a Miss Dior" (I belong to Miss Dior) signed Tien Dior (Dior's nickname). The bottle is a figural bottle in the shape of a dog. Other astonishing auction items were a 1920's R. Lalique, Coty Cyclamen perfume bottle going for $19,200, a 1920's J. Viard, Colmy C'est un Secret perfume bottle for $18,000 and a 1911 R. Lalique, L.T. Piver Scarabee powder box for $16,800. The auction included many vintage perfume bottles, compacts and other rare vanity items.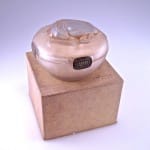 The IPBA convention boasts the largest and longest running Vintage Perfume Bottle & Vanity Show found anywhere. "Our showroom was chock full with thousands of fabulous and breathtaking vintage perfume bottles and vanity items for sale," says Deborah Washington. "You could find all price levels and just about any type of vanity item possible. This year we really spiced things up with many new events, and a new 'Open to the Public' day. Along with our dazzling showroom being open to the public, we had a session called Vanity Valuations, a Flea Market of Vanity Items and an educational event called Collecting Perfume Bottles 101." In addition there was a special exhibit of vintage perfume bottles from the Jay and Pamela Kaplan Collection at the Spartanburg Art Museum and convention goers enjoyed tours to Biltmore Estate and the BMW Plant.

For more information on the convention or perfume bottle collecting visit the IPBA website at www.perfumebottles.org.
 
Perfume Bottle Auction sets New Record in Spartanburg