by Jessica Kosinski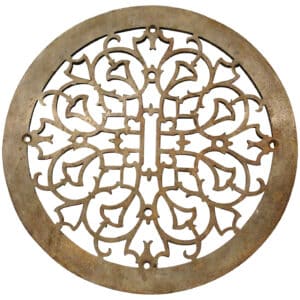 As someone who lives in an older home, I have a strong appreciation for the charm of older houses with their senses of character and interesting quirks. I'm sure many modern Americans share my appreciation for houses and household features from an earlier era. One such feature is the heating grate, sometimes known as a heat grill or register. Heating grates are still present in many homes today. However, modern examples do not have the style and elegance of earlier heating grates. Let's take a peek at the origins of these modern marvels for their time and why they are still beloved by old home enthusiasts today.
The Switch to Central Heating
There is evidence to show that some ancient civilizations used forms of central heating. However, the majority of home heating technologies we know and love today were largely developed only in the last couple of centuries. For example, the home radiator was invented in France in 1855. Even modern thermostats were not invented until 1885.
In the United States, American homes were largely heated by fireplaces until just after 1866. That year, Lewis W. Leeds wrote a book called Lectures on Ventilation which led American engineers and inventors to start focusing on better heating and ventilation systems in homes. The slow change to better air circulation in houses also corresponded with two major events – the industrial revolution and the Victorian Era.
How the Industrial Revolution and the Victorian Era Shaped Grates
The industrial revolution in America led to the widespread development of machines and factories for many different purposes. It also led to engineering innovations and changes in how American society worked. However, it was a slow and expensive change. At first, innovations like central home heating were only available to the wealthy. They were, along with many other luxuries, considered symbols of status.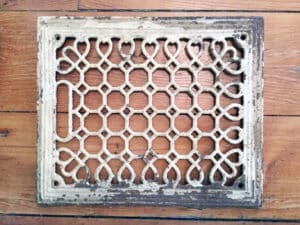 At the same time, the Victorian Era was taking place. It was so named for Queen Victoria of England, who reigned from 1837 until 1901. However, some consider the Victorian Era itself as lasting from as early as 1820 to as late as 1915 in England. A major feature of that era was the desire for attractiveness, beauty, and artistic design. That desire was carried across the Atlantic to the United States. Thus, the combination of a push for innovative heating systems and beauty merged into the desire for functional but artistic heating grates in homes.
The Influences of the Turn of the Century and the Art Deco Era
Another major change to home heating grates came after the turn of the century. Throughout the early 1900s changes in materials used to make the grates occurred. Early grates were primarily metal. Grates produced in the 1900s began to incorporate materials like enamel, porcelain, and lacquer. When metal was used, the types of metal used varied more. For example, gold-plated grates popped up in some homes.
As the Art Deco period hit in the 1920s and 30s, grate styles also experienced changes. They were often molded and designed to feature geometric patterns. The grates themselves also varied in shape. Formerly mostly rectangular, they expanded to include square, round, and horseshoe-shaped models, among others.
The Two Major Types of Early Heating Grates

Heating grates in homes came in two types, based on how the air was circulated. Some systems only recirculated air within homes, but many drew air in from outside, warmed it, then circulated it through the homes. Flat heating grills were most often used in homes where recirculated indoor air was heated. Heating grates that were part of systems involving outdoor air often had wheels or levers on them. That way they could be closed and opened easily at will. They were typically called heating registers to differentiate them from grill grates.
The Top Early American Heating Grate Producer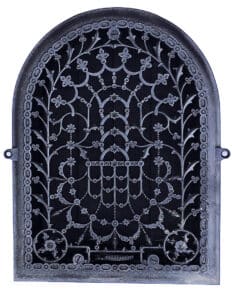 Today, many homeowners seek out older heating grates as collectibles or decorations. Some also want functional, authentic early heating grates to complete restorations of old homes. If you want to locate older grates for any reason, the top name to look for is Tuttle and Bailey.
Many heating grate manufacturers existed in the United States and Europe. However, one of the most famous was Tuttle and Brother, which later became Tuttle and Bailey. The company's heating grates were used in some of the most prominent and largest homes in the United States throughout the late 1800s and early 1900s. The primary focus of Tuttle and Bailey was to create decorative grill covers to hide what were then innovative new radiators.
However, heating registers and grills of various sizes were also produced. The New York-based company was so popular that it has survived to the present day. Its current main office is located in Texas, and the grills it now produces are more industrial in nature.
Reasons to Buy Antique Heating Grates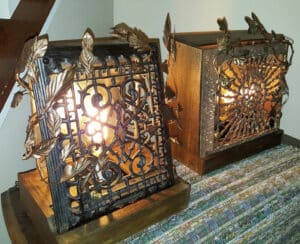 You might wonder if the only reason to seek out old heating grates is to install them in a restored home. It's not. You can also use antique grates in a modern home to add a touch of style. Wall and floor grates are available in many different sizes and styles. The advantage of using older grates for that purpose is they were typically produced of sturdy materials and had more intricate, attractive designs than modern heating grates. You can also opt to purchase a few heating grates for projects unrelated to heating. If you have some metalwork experience, you can turn them into lamps, table centerpieces, magazine racks, and more. They are not just practical, but also works of art.