The Best of Ed Welch – Following Good Advice
The Business of Doing Business in Antiques
By Ed Welch
I put a given amount of money each year in my retirement accounts. Most of this money is tax deferred; some is after tax by a Roth account. I have a base amount that I invest each year, some years I add more. I use a full-service stock brokerage firm. I have had the same broker for the last 25 years.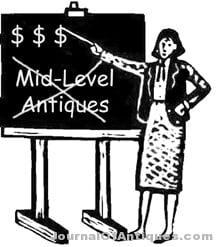 I take my stockbroker to lunch, sometimes to dinner. I debate with him; I argue with him, I do not always follow his stock recommendations. However, I trust his opinions and advice.
Twenty-five years ago, my broker advised me to invest in new startup companies in which the workers and the owners had a personal stake in the success of the business. I have done well buying stock in startups and selling that stock once the company gets, in my opinion, too big. The fact that my latest investment is in a Mexican business changes nothing. Although I did not follow my broker's advice, the reasoning behind his advice was sound. In fact, his reasoning convinced me that my choice of dividing my money between a conservative and risky investment was a good choice.
When I became an antique dealer in the mid-1960s, an auctioneer from Dover-Foxcroft, Maine gave me the following advice. "If you want to make a lot of money in this business, buy and sell low-end junk. Buy all the things most dealers do not want to handle. You can make 10 to 20 times your money dealing in junk."
He also advised that it was possible to make two to three times investment dealing in the very best items. Many dealers do not have the money or are too timid to deal in high-end antiques. Finally, he cautioned me to avoid the midlevels of the trade. Most dealers operate in this area. The competition for mid-level items is so great that it is hard to make money buying and selling mid-level antiques and collectibles.
When I was 18 years old, I opened a savings account at a locally owned bank. I did business with that bank until two years ago when a large multinational bank bought it out. I knew every employee of that bank. Two employees, a loan officer and a vice president, gave me valuable advice concerning banking matters, types of loans, bank CDs, saving accounts, and mortgages.
Following the loan officers advice; I kept precise records on every purchase and resale. These records quickly revealed to me that low-end purchases generated between $12 and $22 dollars for every dollar spent. In plain English, if I paid $1 to buy a low-end item, I could expect to sell that item at a price between $12 and $22.
On high-end items, my buy and sell ratio (correctly called cash-flow ratio) is 1 to 1.3. If I pay $1,000 to buy an item, I can expect to resell that item for $2,300. To do this, I must price the item around $2,600.
Buying high-end items at a cost low enough to allow me to more than double my investment is a hard thing to do. My buying guidelines for high-end antiques is set at 1 to .8, notice the decimal point. If I cannot make an 80% return on a high-end item, it is not worth owning.
My records show that my cash-flow ratio for mid-level items is 1 to .53. Again, notice the decimal point. If I pay $100 for a mid-level item, I can expect to sell it for $153. Business operating costs will take a 21% bite out of that $53. Uncle Sam will take an 18% bite, if you live in the state with a state income tax, another 8.5% is taken away. The bottom line is that dealing in mid-level antiques produces an income below minimum wage.
A dealer from Maryland gave me some of the best advice I have received. She told me to look to my past customers for new sales. She advised that I record the name and address of every person who bought from me. She advised that I keep a want list for each customer and to send thank you notes for every sale. She recommended that I notify past customers when I found something they were searching for.
Other great advice that I have received and followed include; do not buy an antique if you do not know what it is or how much it is worth. If you do buy such an item, do not sell it until you know what it is and how much it is worth. Buy, read and re-read every reference book you can find on the items you deal in or collect. Do not buy what everyone else is buying. It makes no sense to be just another dealer selling what quickly becomes the same old stuff.
We all get advice throughout our lives. Some of that advice is solicited, most is not. I am willing to pay for professional advice, i.e. my stockbroker. However, he must convince me, using every day language, why I should follow his recommendations.
My accountant (paid advice) does not like the fact that some of my retirement investments are paid for with after-tax funds via a Roth account. She never fails to point out the taxes I could save by using a tax deferred IRA.
My financial adviser (more paid advice) oversees all of my business and retirement accounts. He makes sure that I have enough money in the proper accounts to keep my business healthy. I consult him before I buy an estate or make other large purchases. I freely admit that I know little about tax codes, accounting principles, and financial planning. I am willing to pay for expertise that I do not possess.
Five years ago, I bought a major piece of real estate in our downtown business district. I shopped around for loans and got three loan proposals. My financial adviser and my accountant both laughed at what I thought was the best proposal. The proposal required no down payment, a liberal 25 year payback schedule, and a very low introductory rate guaranteed for five years.
After hours of discussions that bordered on badgering, I went along with their recommendations and applied for what I considered the most expensive loan. I had to make a down payment equal to 20% of the value of the property, settle for a short 15-year payback, and pay a high closing cost.
Because of what has recently happened in the housing and financial markets, I am fortunate that I had the good sense to hire financial experts and follow their advice. The total cost of this advice was $385, plus I pay my financial advisor a small annual retainer. I consider this a necessary business expense.
The financial industry spends millions of dollars packaging their products, mortgages, student loans, business loans, equity loans, and credit cards in such a manner that the products appear friendly, useful, necessary, and harmless.
The simple task of choosing the right credit card for yourself or your small business is so complex that it cannot be done without professional help. There are thousands of credit card options but only one or two that will fit your lifestyle or small business.
An antique dealer can make all business related purchases, travel and hotel expenses, the purchase of antiques, pay for professional services, and pay for business overhead with a well chosen credit card that gives reward points based on the dollar amount spent. The dealer can redeem the reward points for cash.
Depending on the size of your antiques business and the value of the antiques you carry, it is possible to make hundreds, even thousands of dollars using a business credit card to pay business expenses.
To end this article, I would like to pass along advice that was given to me by an antiques dealer in 1982. Call the Consumer Credit Counseling Department of the state in which you live. Ask for a list of financial advisors who specialize in credit cards. Be persistent when you ask for financial advisors and try to get a recommendation of just one or two. Make an appointment to go over the cards you now use and for recommendations on cards that better fit your lifestyle or business. Most likely, in a few weeks, you will be using a credit card that pays you.
As many of you are aware, our friend Ed Welch passed away in October, 2012. His wisdom and entrepreneurial spirit will be greatly missed. At the request of many of our loyal readers we've decided to publish some of their favorite columns from past years.