Comic Character Collectibles
By J.C. Vaughn
It's been an exciting year for popular culture, and it's not showing any signs of letting up just yet. Starting with Hake's Americana & Collectibles' first offerings from the Franco Toscanini Superman collection, virtually all of the comic book and comics-related auction houses have turned up significant collections and impressive, one-of-a-kind pieces. We've also seen recognition from the mainstream media for this area of the arts, and that, too, seems unlikely to change anytime soon.
75 Spirited Years Opens at GEM
About 300 comic book retailers, publishers, creators, and other enthusiasts were on hand at Geppi's Entertainment Museum (GEM) on Friday, September 25, 2015 for the opening of 75 Spirited Years: Will Eisner & The Spirit.
Guest Curator Denis Kitchen, Eisner's longtime friend and publisher, and members of the Eisner family were among the attendees.
The exhibit is the largest Eisner retrospective that will be staged during The Spirit's 75th anniversary year, and it also marked the celebration of the museum's ninth anniversary. While the exhibit spotlights The Spirit, it also showcases many of the other areas of the writer-artist's work, ranging from graphic novels to P.S. Magazine.
Writer Matt Wagner, artist Dan Schkade and colorist Brennan Wagner, the creative team on Dynamite Entertainment's current series of The Spirit, were on hand to sign the GEM exclusive variant of The Spirit for the attendees.
Mark Wheatley, who illustrated the GEM exclusive variant of Comic Book Marketplace Yearbook, signed autographs, as well. Artist John K. Snyder III, whose Spirit work was also on display, was also on hand for the evening.
"We were so pleased with the turnout for the launch, and the reactions were uniformly wonderful," said Melissa Bowersox, President of GEM. "It was a great way to celebrate our first nine years."
The exhibit will run through March 7, 2016.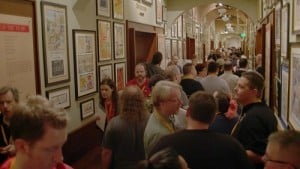 New Book Details 100 Years of King Features
The just-released hardcover King of the Comics: 100 Years of King Features is a centennial birthday celebration of King Features Syndicate, and it's yet another shining example of everything that The Library of American Comics does right.
The 300+-page book, which retails for $49.95, mixes copious examples of classic American comic strips in both black and white and color with lively insights by top comic historians. The result is pure gold.
Writers Dean Mullaney, Bruce Canwell, and Brian Walker, and contributors Brendan Burford, Lucy Shelton Caswell, Jared Gardner, Ron Goulart, Jeffrey Lindenblatt, Carl Linich, Paul Tumey, and Germund von Wowern weigh in on Krazy Kat, Popeye, Flash Gordon, Beetle Bailey, Blondie, Prince Valiant, Barney Google and Snuffy Smith, Buz Sawyer, Steve Canyon and many, many more.
The century since William Randolph Hearst launched King Features is spelled out with its brilliant high points and forgotten classics. If you love the art form and its history, this book is a must, and even if you're just a casual fan you'll find it a compelling journey.
After 45 Years, A First for Overstreet
Amanda Conner has had many firsts in her career, and she's added another with The Overstreet Comic Book Price Guide.
The superstar writer-artist, known for her work on Harley Quinn, Power Girl, Starfire, and Before Watchmen: Silk Spectre, among others, has provided two covers for the Guide's 46th edition. Power Girl and Harley Quinn are the central figures on covers that also feature Starfire, Zatana, Terra, and Catwoman, Poison Ivy and Cheetah, respectively.
What's really different about this edition of the Guide is that the two images join up to form one bigger image. That's a new one for the book, which celebrated its 45th anniversary in July with the release of its new edition.
Over that long history, there have been several artists to provide cover images for the book more than once, including Alex Schomburg, Don Newton, Carmine Infantino, Murphy Anderson, Alex Ross, John K. Snyder III, George Perez, John Romita, Jr. and Mark Sparacio.
Of them, only Ross, Anderson and Snyder III ever produced two covers for the book in the same year, and those happened since in 1997, when the Guide went to multiple covers. None of them, though, ever produced two covers that linked up into a bigger, single image.
The Overstreet Comic Book Price Guide is scheduled to go on sale Wednesday, July 20, 2016.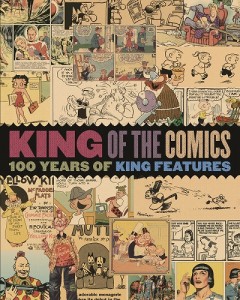 A Shout Out to the Girl Scouts
The awesome young ladies of Girl Scout Troop 3210 visited Geppi's Entertainment Museum (GEM) on Saturday, September 26, 2015, as part of their efforts to earn their Comic Artist merit badges. To do so, they're required to delve into the world of comics, choose a story to tell and illustrate it.
To help them along the way, I was privileged to talk to them about the various steps in the creative process as well as showing them around the museum, which is jam-packed with original comic art.
My thanks to them for their attentiveness, patience and great questions. It's exciting to know that the Girl Scouts are cultivating an awareness of this area of popular culture.
JC Vaughn is the Vice-President of Publishing for Gemstone Publishing.
Big Year for Comics, Comic Art Continues