by Charles Snider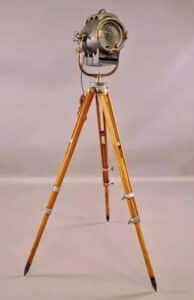 Happy Oscar Season! These days movie buffs or families can watch most of the films nominated for Best Picture from the comfort of their own homes.; however, for collectors of Hollywood memorabilia, autographs, pictures of their favorite stars, and Hollywood mementos and souvenirs, it's always Oscar Season.
Since the beginning of the film industry, and once the first Oscars took place in 1929, interest, investment, and the building of a market for Hollywood collectibles have grown steadily. Today, new and fresh-to-the-market Hollywood collectibles command very high prices, along with very high interest from enthusiasts. Nearly every category of Hollywood nostalgic memorabilia—from autographs to photographs, props and set pieces, posters, and lobby cards—has increased in value and popularity.
What makes Hollywood and celebrity collectibles so valuable and highly sought after?
The close proximity to the actors, for one. For example, many collectors treasure and cherish autographs because they know (or hope) their favorite actor put pen to that piece of paper (although in many cases it was his/her secretary or an autopen). The idea of a personal touch is much stronger for a photo signed by the actor than a photo without a signature.
Provenance is another reason. A collector of all things Hollywood (or a Broadway enthusiast) does not need to wait for the estate of a famous actor, famous producer, or celebrated director to come to market in order to acquire a fine one-of-a-kind memento or piece of Hollywood memorabilia. Some of the finest and rarest pieces of movie memorabilia, Hollywood lore, and Tinseltown collectibles come from the collections of the agents, the publicists, and the thousands of Hollywood professionals in Los Angeles and in New York, who worked with the stars. When these storied mementos hit the secondary market—sold online by a collectibles dealer or collectibles shop through an online marketplace—they have the provenance and history required to be prized collectibles.
When making a visit to Los Angeles a year ago, there was the opportunity to visit the estate and collection of a Hollywood film assistant who had taken photos from all the sets where he worked. Dealers were able to offer never before seen photographs and film props from several George Lucas films, which are always very collectible and desirable.
What kinds of Hollywood collectibles are most desirable and sought after?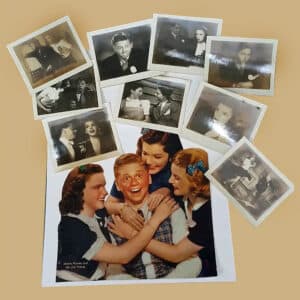 Candid, never before seen unpublished photos of big stars from any field of entertainment are always very collectible, and film enthusiasts and collectors feel like they have discovered a treasure when a candid photo of their favorite Hollywood, Broadway, or TV star is offered. These are the kinds of photographs from the publicists, the agents, and the other industry professionals privileged to be up close to Hollywood legends.
For instance, the estate of one publicist to the stars who lived in New York and spent the majority of his/her career in Los Angeles provided a treasure trove of intimate party pictures of TV and film stars from private events. With this background and provenance, coming from a publicist's estate, the dealers and shops offering these items were able to bring fresh Hollywood collectibles to this hot market.
Mementos from award shows, the Oscars, the Tonys, and the Emmys are always sought after because any memento or souvenir was produced in a very limited quantity, for distribution among a very exclusive and limited group of stars, celebrities, and Hollywood insiders. Items connected to classic films such as Casablanca, The Wizard of Oz, Gone with the Wind, and Star Wars continue to have broad appeal among an ever-growing group of loyal enthusiasts and collectors.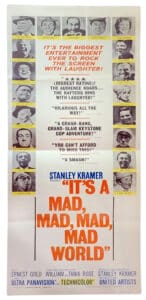 Another sought-after Hollywood collectible is movie posters. Movie posters for big blockbusters command the most interest and value, and posters for older films are also sought after because older movie posters tend to be scarcer as, over time, fewer survive and are made available. A collector of movie posters may even opt for an older title for its rarity, as opposed to the affinity for the film itself.
Autographs and handwritten messages or letters or documents by or even regarding major stars continue to be highly valued and highly sought after. Enthusiasts and collectors still seek out autographs as rewarding collectibles to add to their personal collections, and also as broadening their finer investments portfolio. The timeless movies and TV appearances by major stars such as Cary Grant, Elvis Presley, Audrey Hepburn, Judy Garland, John Wayne, and Marilyn Monroe, just to name a few, are matched by the timeless value and appreciation for one of their autographs, movie mementos, nostalgia, and photographs.
Even if we are watching shows on television and watch as many or more movies at home rather than in the movie theaters, we will continue to be impressed, delighted, enthralled, and enchanted thanks to the collectibles that remind us of their careers and the movies we relish.