Character Collectibles: November 2017
By J.C. Vaughn
Sometimes a comic book cover can change your life. Weird, but true. It's happened to me more than once, if you can believe it.
First, a bit of background. If you've ever been a serious comic book fan or even known one very well, you'll already know that passionate enthusiasts can always find something over which to argue. Who's the best James Bond? Star Trek or Star Wars? Who's stronger, The Thing or The Incredible Hulk?
A few steps beyond that intellectually-or at least I hope it is-is this one: "What makes the best comic book covers?"
It's a great topic for debate. It's also something I think about intently throughout the year as I'm planning the next year's covers for The Overstreet Comic Book Price Guide. For us as individuals there is no wrong answer, of course. It's purely subjective. But with a little thought it is frequently possible to explain what it is about a particular image that grabs you.
The best ones are the ones that make you stop and check out something you weren't previously going to purchase – and in some cases, you even end up picking up a title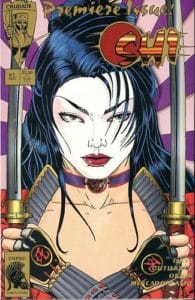 you've never even heard of before.
I first saw Shi: The Way of The Warrior #1 the day it came out in March 1994 ("Shi," by the way, is pronounced "she."). It was on the top rack two aisles away at Heroes, my local comic shop in Hurst, Texas, where I lived at the time. Its bold, striking image leapt out at me over the other racks and called me to it. Even before I got over to it, an idea had already sparked in my head.
I had a friend who was a very good actress on the way up in her career, and she was always on the lookout for strong, Asian or Asian-American female characters to portray. Even the cover screamed that this was one that might fit the bill.
Shi: The Way of the Warrior was the story of Ana Ishikawa, a conflicted, beautiful young woman caught between ancient warring clans even while dealing with disparate demands of her family and the divergent elements of her own spirit.
I met Shi's creator, writer-artist Billy Tucci, for the first time at Comic-Con International: San Diego in 1994 just a few months after his first issue had come out. Less a year later I joined the staff of Gemstone Publishing to work on Overstreet's FAN, and I ended up talking to him periodically. By the time the 1995 edition of the Chicago Comicon rolled around, we'd started to become friends, and it was at the show that we really cemented it.
The crowds were crazy and at our respective booths we had talked until our voices were just about gone. The convention center didn't have any particularly healthy alternatives, so we decided to get some soft serve ice cream to restore our voices. It was then that Billy said one of the best things I've ever had someone say to me:
"Tia Carrera keeps calling me."
It wasn't just what he said, but how he said it. It was almost a complaint.
My first reaction was something along the lines of "I could take the calls for you if they're really getting bothersome." To be clear, this was just post-True Lies, when she was at the very height of her Tia Carrera-iness.
"She really wants to play Shi," Billy continued "She might be really good, but there's other actress I was thinking about…"
"Who?" I asked. That's why I was a reporter. Asking the tough follow-up questions.
"She was in The Joy Luck Club and she's on E.R. Here name's Ming something."
I stopped and looked at him. He stopped and looked back. For a moment or two, I wondered if one of the guys from FAN had said something to him. If they had, I'd take the bait anyway.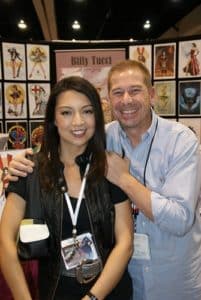 "Ming-Na Wen," I said.
"Yeah, that's her! I think she'd be great as Ana or maybe even Tomoe. What do you think?" I could tell right away he was being sincere. So I replied in kind.
"Well, I could send her your stuff if you want."
Long before she was Melinda May on Marvel's Agents of S.H.I.E.L.D., she was my pal Ming-Na. Growing up in Pittsburgh, Pennsylvania, she and my best friend and I went to our first big convention together in 1979. We met Buster Crabbe (the original Flash Gordon), Kirk Alyn (the original film Superman), Bond girl Caroline Munroe (The Spy Who Loved Me), and others.
Ming was the friend I had imagined when I first saw the cover to #1. I did eventually arrange a conversation with Ming-Na and Billy. They hit it off well enough, but nothing came of it. She went on to become the voice of the title character in Disney's Mulan, star on SyFy's Stargate Universe, and many other films and TV shows before landing on Marvel's Agents of S.H.I.E.L.D., where her performance reminded me that my instincts about her and Shi were right.
A Tia Carrera film version of Shi was announced, but ended up never happening. A new version is in development, and it would still make a fine movie.
In the interim, Billy finished the original series and multiple follow-ons, several of them with me as writer. He's been honored for as the writer-artist on DC's Sgt. Rock: The Lost Battalion and maintained his reputation as a stellar cover artist for many different companies.
He's also proven himself over two decades to be one of the best convention guests, always making his fans feel engaged and leaving them more enthusiastic than when they arrived. And as good as he is as a writer or an artist or a convention guest, he's even better as a friend and as an individual. But if not for the powerful cover image on that first issue, I might not have noticed.
J.C. Vaughn is Vice-President of Publishing for Gemstone Publishing.
A "Cover Story" That Changed My Life