Comic Character Collectibles
By J.C.Vaughn
The cinematic successes of the X-Men franchise for Twentieth Century Fox, then the Spider-Man franchise from director Sam Raimi for Sony, and the Batman franchise from director Christopher Nolan for Warner Bros. each had a good bit to do with setting the level of expectations for the blockbuster superheroes summer spectaculars such as May's Avengers: Age of Ultron.
To be clear, not all comic book movies are superhero movies. From Road To Perdition, Sin City, and 300 to A History of Violence, The Surrogates and Ghost World, different types of comics have found voices in other media as well.
But there's no denying the financial success of the superhero movies at this point. When, according to BoxOfficeMojo.com, Avengers: Age of Ultron pulls in more than $187 million domestically in its first weekend and another $439 million internationally, it doesn't happen without an audience that is actually eagerly anticipating the release.
Under parent company The Walt Disney Company, Marvel Studios has succeeded in catapulting its characters into just about every licensing niche one can imagine, with their major efforts on the big screen, broadcast television, cable, and on streaming video, they are reaching a tremendous number of people.
Whats more, since their earliest studio-controlled films beginning with the first Iron Man movie, they've been building the Marvel Cinematic Universe to more or less parallel the comic book universe they've been building and rebuilding since the 1960s. Whether you're talking seeing Avengers: Age of Ultron at theaters, Marvel's Agents of S.H.I.E.L.D. on ABC, or Daredevil on Netflix, you're seeing pieces of a bigger puzzle whether you know it or not.
Whether it's movies based on Marvel or DC comics, or popular long-term franchises such as Star Trek, Star Wars, Sherlock Holmes, Planet of the Apes, or James Bond, itís increasingly common for newly-cast actors or newly-assigned writers, producers or directors to proclaim their affinity to the source material, whether novels, comic books or earlier TV series or movies.
A great example of this seen on the HBO series Entourage when budding superstar Vincent Chase (Adrian Grenier) is cast as Aquaman in a fictional big budget, summer tent pole movie version of the comic book character. Chase knows nothing about Aquaman, but quickly bones up on the subject so he can drop all the right cues with the appropriate level of sincerity in key interviews. Rightly or wrongly, it's seen as his key to credibility with the hardcore comic book and movie fans who, if they like him, will see the movie repeated, and who, if they don't, could bury it before its first screening.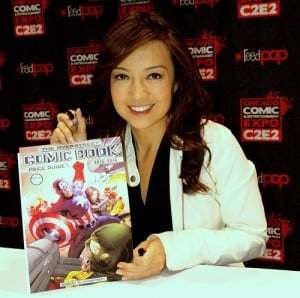 Even before she portrayed Agent Melinda May on Marvel's Agents of S.H.I.E.L.D., Ming-Na Wen always had serious geek cred.
A lifelong science fiction fan, her genre resume includes playing Camile Wray on Stargate Universe, Emily Wu in Push, Senator Michela Wen on Eureka, and Chun Li in Street Fighter: The Movie, plus providing the voice of Mulan in Disney's Mulan and Mulan II. She's also voiced Dr. Hirano on Phineas and Ferb, Finn's Mom on Adventure Time, Detective Ellen Yin on The Batman, Peggy Tsu on The Adventures of Jimmy Neutron: Boy Genius, Doctor Aki Ross in Final Fantasy: The Spirits Within, Lisa Wu on Spawn, and even Mary Kate Olsen on Robot Chicken.
Her days as a fan include sitting through Star Wars three times the first time she saw it, collecting all the first series action figures, and being a member of her high schools science fiction club (and if your mind runs immediately to an image of a dozen or so mostly socially awkward guys and one beautiful Asian American girl, don't worry, that's pretty much accurate).
Now she can add her character fighting side-by-side with Captain America against the hoards of Hydra on the cover of The Overstreet Comic Book Price Guide #45 to her list of comic book accomplishments.
Geppi's Entertainment Museum Collection and Exhibits Manager Michael Solof, a friend of Wen's (and of your faithful columnist) since high school, took a print of our forthcoming cover for her to sign at the Chicago Comic and Entertainment Expo (C2E2) on Saturday, April 25, 2015.
This makes Wen the second real person to be featured on the cover of the Guide, after author Bob Overstreet himself. Overstreet was featured on #12 in 1982 alongside MAD's Alfred E. Newman in a piece by artist Norman Mingo.
The Captain America and Agents of S.H.I.E.L.D. editions (both hardcover and soft cover) of The Overstreet Comic Book Price Guide #45 are scheduled to go on sale Wednesday, July 8, 2015.
Attendance Booms in Calgary
The April 16-19, 2015 edition of the Calgary Comic & Entertainment Expo was the 10-year-old convention's first to exceed 100,000 attendees over the course of the four-day event, show promoters have reported. It is held at the Calgary Stampede grounds and also includes an annual parade through downtown Calgary. This year's included more than 1,500 costumed participants.
Bouncing Back in Baltimore
If you watched TV, listened to the radio, read a newspaper or visited a news site, the only ways you could have missed the turmoil in Baltimore was blind luck or a truly diligent effort. Regardless, it seems more than that you've heard about the troubles at the end of April and beginning of May.
During that time, out of concern for the safety of guests, employees and the museum itself, Geppi's Entertainment Museum was closed. It reopened May 5.
"Our first concern is the safety of our guests and our staff," said Steve Geppi, the museums founder. "We also made this decision with our permanent collection, the wonderful artifacts which have been loaned to us, and our facility in mind. As a lifelong Baltimorean and as an enthusiastic promoter of my home town, I look forward with hope to putting this trouble behind us and getting back to the business of rebuilding our great city for all its citizens and visitors alike."
A number of events at the museum were postponed and rescheduled for later dates.
"One can only hope and pray that out of this disturbing period will come a sense of need for renewal, a new focus on what is truly important to the physical, mental and spiritual well being of individuals, their families, and our community as a whole," said Melissa Bowersox, President of GEM. "Baltimore is a great city filled with people who want only the best for their fellow citizens. We look forward to the days, weeks, months and years ahead in which we'll continue to showcase our shared pop culture heritage and offer common ground to share our diverse experiences."
J.C. Vaughn is the Vice-President of Publishing for Gemstone Publishing. Gemstone's Carrie Wood contributed to this article.
Pop Culture Meets Reality on Overstreet Cover