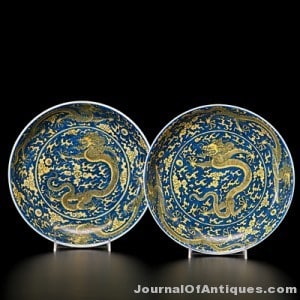 Pair of Kangxi chargers – $274,500 – Cowan's Auctions
Gavels 'n' Paddles / Sept. 2012
Recent Auction Results From Near & Far
By Ken Hall
A pair of important Kangxi chargers sold for $274,500 at an Asian Art Auction held July 27 by Cowan's Auctions in Cincinnati, OH. Also, a Ming period bronze Guanyin hammered for $72,000; a Northern Chi-style Buddha, possibly 4th century, changed hands for $51,000; a 17th century rhinoceros horn libation cup fetched $48,000; a Chinese Yuan/Ming period libation cup realized $26,400; a jadeite lidded vase demanded $55,200; a jadeite bracelet and pendant made $26,400; and a jadeite snuff bottle hit $12,000. Prices include a 15 percent buyer's premium.