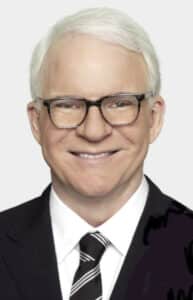 Emmy, Grammy, People's Choice, and Academy Award Winner hardly begin to describe Steve Martin, who has entertained us for decades on radio and TV, in the movies, on music-hall stages, and in comedy clubs across the country and around the world. His brand of homespun and goofy humor and always charming and memorable characters are the hallmark of a noted career that is still going strong! Martin's SNL routines are legendary; the many costumes and props that define his movie rolls, iconic. And if that wasn't enough, he's also an accomplished musician who actively performs, tours, and records; an author, playwright, and comedy writer; and, more importantly, a good friend to the members of his Hollywood community.
Earlier this past year. Martin brought an impressive collection of his personal costumes and memorabilia from throughout his career to Julien's Auctions in Beverly Hills to be auctioned off, with 100 percent of the proceeds going to the Motion Picture & Television Fund's Country House and Hospital in honor of his good friend, the legendary actor Roddy McDowall.
The Motion Picture & Television Fund's Country House and Hospital was founded a century ago this year by silent film star Mary Pickford. MPTF provides a wide variety of programs and services to take care of industry members in need, offering programs and services and retirement housing on their Woodland Hills campus.
In a letter that introduces the Property from The Collection of Steve Martin catalog accompanying the July 18, 2020, live auction, Martin shared how this auction came to be, and why it was so important for him to bring these personal mementos to auction:
"In the late 1990s, I had a friendly relationship with the actor Roddy McDowall. He would invite me to his house on Laurel Canyon Boulevard for dinner parties that were always attended by fabulous people: Elizabeth Taylor, the cartoonist Al Hirschfeld, the writer George Axelrod, and his witty wife, Joan Stanton. In her late 70s, she once said to me, 'Finally, you do become wise. But then it's too late."
"When Roddy was on his deathbed in 1998, he was summoning friends to say goodbye. Roddy had had a longstanding relationship with The Motion Picture & Television Country House and Hospital in Woodland Hills, California, and when I went to his bedside (along with several others), he asked me to take over his responsibilities there. I said yes, knowing he was dying and I was lying. But I couldn't really utter the word 'no.' Now it is time to fulfill at least a part of that bedside promise.
"I estimate that I have been in show business for 55 years. There have been highs and lows: the lows being the result of ego hits, and the highs always accompanied by a hint of insecurity. Through all these thrills, I have squirreled away memorabilia of all sorts; some scraps of interest to nobody but me, and some the tangible byproducts of a Hollywood career: awards, posters, movie costumes, musical instruments, magic props, and plenty else that falls under 'etc.'
"As my life evolves, hanging on to mementos from the past becomes less important to me, especially when I consider that these items could raise funds for the Motion Picture & Television Country House. I do hope it will mean something to this important cause."
The items from Martin's personal collection range from his trademark three-piece white suits worn during his sold-out stand-up comedy performances in the 1980s to his "wild and wacky" tie collection, signed scripts, and props from the movies that helped to define his career.
Here is a look at a diverse mix of items from Steve Martin's personal collection from this auction: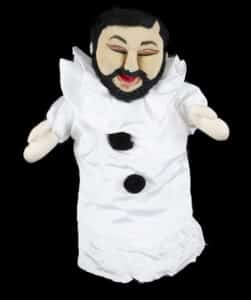 LOT 627: STEVE MARTIN "PAVAROTTI" PUPPET FROM HIS FUNNY STAND-UP ACT CALLED "THE GREAT FLYDINI"
A small cloth puppet made to resemble the Italian opera singer who came out of Steve Martin's fly, singing, when Martin performed his tongue-in-cheek magic act as an old-timey magician called "The Great Flydini." This skit proved so
popular that Johnny Carson requested that Martin perform it during the last month that The Tonight Show Starring Johnny Carson was on the air, right before Carson famously retired from the show in May 1992. Estimated: $600-$800, Sold For: $3,520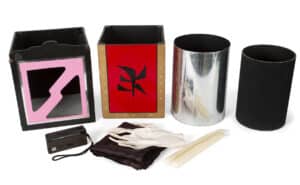 LOT 637: STEVE MARTIN MAGIC TRICK FROM HIS STAND-UP DAYS
A three-piece magic trick comprising a red wooden box with Asian characters painted in black on the sides, a pink and black wooden box that goes over the other box, and a silver metal cylindrical canister that goes inside the other two to perform a disappearing act. Also included are a pair of white candles, one white cotton glove, a black satin scarf, and an old Kodak Trimlite Instamatic camera all used for the illusion. Estimated: $300-$500, Sold For: $1,920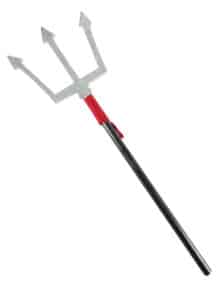 LOT 654: STEVE MARTIN PROP TRIDENT FROM DIRTY ROTTEN SCOUNDRELS
20th Century Fox, 1989. A wood three-pronged spear painted silver and black with a red cord affixed to the top portion of the handle. Used by Steve Martin as Freddy Benson in one of the hysterical "Ruprecht" scenes when he brings the spear to the formal dining table. Estimated: $400-$600, Sold For: $10,000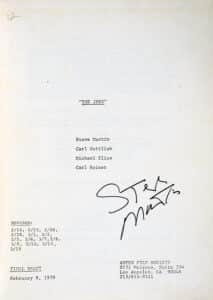 LOT 671: STEVE MARTIN'S SIGNED SCRIPT FROM THE JERK
A 127-page script from the 1979 Universal Film, photocopied interior pages, white covers, ownership signature in black felt-tip ink on the title page, screenplay by Steve Martin, Carl Gottlieb, Michael Elias, and Carl Reiner, dated "February 9, 1979," marked "Final Draft," a file copy script from this ground-breaking comedy that people still quote from 41 years later. Estimated: $3,00-$5,000, Sold For: $25,600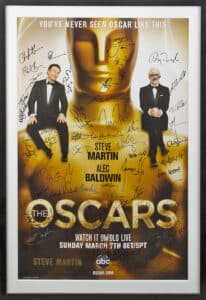 LOT 740: STEVE MARTIN OSCARS POSTER SIGNED BY CELEBRITY ATTENDEES AT THE 2010 ACADEMY AWARDS CEREMONY
A poster advertising The 2010 Academy Awards the year Steve Martin and Alec Baldwin co-hosted, with countless black felt-tip ink autographs throughout, including those of Oprah Winfrey, Anthony Michael Hall, Chris Pine, Demi Moore, Pedro Almodovar, Tina Fey, and Tom Hanks, who funnily signed right on Martin's face; the rest are illegible. Estimated: $100-$200, Sold For: $2,880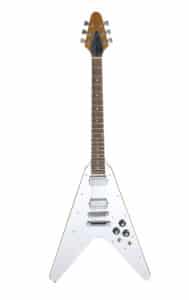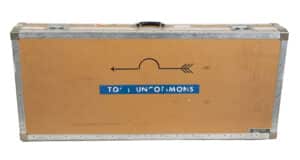 LOT 742: STEVE MARTIN STAGE PLAYED 1976 GIBSON FLYING V GUITAR
A 1976 Gibson Flying V solid-body electric guitar with a natural mahogany finish. The headstock is impressed with the serial number 966549, and the pickup cavity has been stamped with the date "DEC 2 1976." Accompanied by the guitar's fitted tan-colored road case stenciled with an image of Steve Martin's now-famous "arrow through the head" Togo on both sides as well as text reading "Toot Uncommons" on one side only. Martin used this guitar and its groovy-print strap (which is included) mostly as a prop while singing King Tut. Estimated: $4,000-$6,000, Sold For: $19,200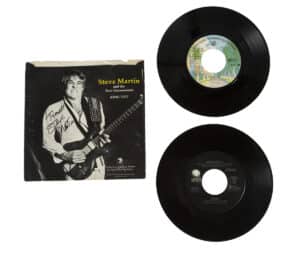 LOT 746: STEVE MARTIN SIGNED 45 RECORD JACKET AND DISCS
A pair of 45 discs and their sleeves: one is for the 1978 hit single King Tut with Hoedown at Alice's on the B side, its sleeve signed in black felt-tip ink "To myself/ Steve/ Martin;" and one is for the 1986 song Dentist with the B side being the same, its sleeve a plain gray one noting "Geffen Records." Estimated: $100-$200, Sold For: $1,920
Lot 761: STEVE MARTIN TRADEMARK 1970s-ERA 'WHITE SUIT'
A three-piece suit ensemble comprising: an eggshell white blazer, peaked lapels, three front pockets, two-button front closure, lined in white satin with a repeating pattern reading "Brioni / Roma," the label reads "Tailored in Italy Exclusively / for / Giorgio / Beverly Hills / By / Brioni;" a matching vest, two front pockets, six-button front closure; a matching pair of slacks; a black silk necktie by Dior; and a black silk pocket square; worn by the actor on countless stages and on numerous television appearances. [Shirt in catalog illustration not included.] Estimated: $10,000-$20,000, Sold For: $22,400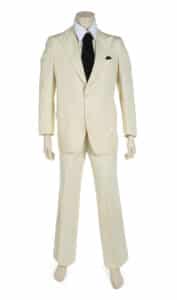 "Steven Martin is a pop culture icon and one of the nicest celebrities who we have ever worked with. I was especially very excited about working with him on an auction because I've always had respect for him in his life and career. Working with him was one of the highlights of my career," said President/CEO of Julien's Auctions Darren Julien. "We had interest from bidders and fans from all over the world as Steve has a global fanbase. I was very happy with the results of the auction and his fans are also some of the nicest bidders to work with and there was a frenzy of buyers wanting items from his life and career.
---
Julien's Auctions is the world-record breaking auction house. Collaborating with the famous and the exclusive, Julien's Auctions
produces high-profile auctions in the film, music, sports, and art markets. Julien's Auctions has received international recognition for its unique and innovative auction events, which attract thousands of collectors, investors, fans, and enthusiasts from around the world. Julien's Auctions specializes in sales of iconic artifacts and notable collections including Marilyn Monroe, John Lennon, Ringo Starr, Lady Gaga, Banksy, Cher, Michael Jackson, U2, Barbra Streisand, Les Paul, Neil Young, Elvis Presley, Frank Sinatra, Jimi Hendrix, Hugh Hefner and many more. To see who's up next, visit www.juliensauctions.com.­