Comic Character Collectibles
By J.C. Vaughn
The theoretical downtime between big auction news events and my own writing deadlines during the holidays granted me a few moments to think about how fortunate I am to work with authors who are excited to share their collecting passions with others: Amanda Sheriff, our Associate Editor at Gemstone Publishing, and Carrie Wood, our Assistant Editor. Here's a look inside two of the areas they cover regularly …
General Mills' Monster Cereals
In the 1970s, General Mills developed a brilliant new combination of cereal flavor and box art that would surpass typical breakfast fare to become an American classic. They found a way to make spooky things fun and entertaining, while also appropriate for kids to enjoy at the breakfast table, by creating General Mills Monster Cereal.
Banking on the continued popularity of classic monsters, General Mills created the characters and flavors of Count Chocula, Franken Berry, and Boo Berry, and later added Fruit Brute and Fruity Yummy Mummy to their line of cereal. The characters were drawn as kid-friendly emulations of Dracula, Frankenstein's monster, a ghost, werewolf, and mummy on attention grabbing cereal boxes.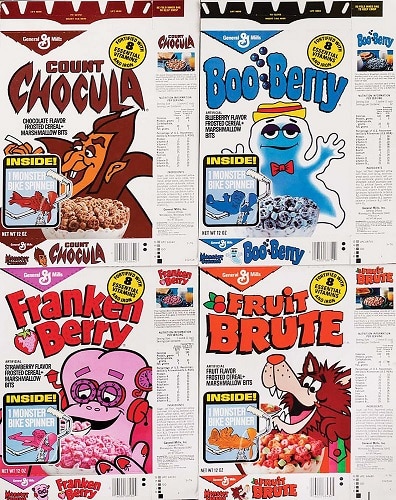 Count Chocula and Franken Berry, the first two flavors, were introduced in March 1971. The chocolate- or strawberry-flavored cereal was made of pre-sweetened oats and corn, filled with several vitamins and iron. Initially shaped like small colored and flavored cylinders with marshmallows, now they have been updated to match the shapes of the characters.
The colorful, cartoon box art was accompanied by classic TV commercials with Count Chocula doing his best over-the-top Bela Lugosi impression and Franken Berry mimicking Boris Karloff. The spectral blueberry flavored Boo Berry was launched in December 1972, adding a ghost that sounded like Peter Lorre to the commercials. In the ads, the trio would talk about why each one was the best, scariest monster, but often ended up getting spooked by their surroundings.
For 35 years Count Chocula, Franken Berry, and Boo Berry were available year-round, while today they appear as special treats at Halloween. In 2013, the Monster Cereals were rereleased, marking the first time all five were available at the same time. General Mills updated the box art, giving them a contemporary 3-D look. Some stores, however, did carry the retro box art for Monster Cereal fans that preferred the original depictions.
When they were rereleased in 2014, the boxes depicted art by comics artists. The limited edition packaging was designed by Terry and Rachel Dodson (Count Chocula), Dave Johnson (Franken Berry), and Jim Lee (Boo Berry), and featured comic strips by Brent Schoonover.
In The Overstreet Guide to Collecting Horror, author Amanda Sheriff showcases these cereal characters and some of the collectibles associated with them. The book ranges from first edition novels to the Universal monsters to movie posters and more. Its inclusion of the monster cereals showcases just how broad-based it is in its approach to covering the horror genre.
Atari's Last Console: The Jaguar
It's not much of a secret that old video games and video game systems have become highly collectible. While the market it still in its infancy, there are many record prices being paid. If your first reaction is disbelief, give a thought to how long video games have been around and you'll realize that they're following the path of virtually every other pop culture collectible.
Atari was known as one of the frontrunners of the video game industry throughout the late '70s and into the '80s, thanks to the success of many of their arcade cabinets as well as the 2600 home console. Though it was overshadowed by the success of its competitors, the company continued producing consoles into the 1990s and its last effort with console hardware arrived 25 years ago – the Atari Jaguar.
The Jaguar first arrived in North America in 1993 before making its way around the rest of the world the following year. The console was developed in an attempt to out-perform both the Super Nintendo and the Sega Genesis while still being cost-effective. Marketed as the first 64-bit console on the market, the Jaguar's slogan was simply "Do the Math." Initial responses to the system were mixed, with many praising the technical specifications of the console but criticizing the lack of quality software available. The Jaguar had a handful of hits in the library, such as Doom, Wolfenstein 3D, and Alien vs. Predator – but was overall lacking in available titles.
Unfortunately, largely due to a lack of third-party game support, the Jaguar was never able to find much of a foothold in the world console market. Though technically superior to the Genesis and the Super Nintendo, the Jaguar was unable to match the popularity of either system – and the fact that Sony entered the market with the PlayStation in 1995 only complicated things further. The Jaguar was also difficult to develop for due to a CPU flaw, meaning that software developers weren't exactly excited to make new games for the system.
The system was discontinued by 1996, having ultimately sold less than 250,000 units worldwide. What's interesting about the Jaguar is that when Hasbro bought out Atari in the late 1990s, the company declared the Jaguar an open platform – opening it up for a lot of homebrew content development. Several companies released previously unfinished games for the Jaguar and the system has been home to indie development as well.
If you're looking for an introduction to this area of pop culture, pick up The Overstreet Guide to Collecting Video Games by Carrie Wood. What I like so much about this book is that even though I had next to no real previous understanding of the niche, I find it to be a highly informative, compelling read. It really lays out the hobby, its history, and the creative folks behind it.
Both of these books are available at better comic shops, at book stores, on Amazon, and directly from us at Gemstone Publishing.
Pop Culture Horizons: Looking at Different Niches