Comic Character Collectibles
By J.C. Vaughn
The Earpers, those dedicated, committed fans of SyFy's cult hit series, Wynonna Earp, can pause and let themselves enjoy a well-earned whiskey because the series they love is coming back. The fourth season of the TV show based on the comic book series created by Beau Smith will air in the summer of 2020 on the network. IDW confirmed that the writers and pre-production staff will begin work in November and filming will begin in January for a 12-episode season.
The fourth season was scheduled to air during the summer of 2019 but was delayed by funding issues at IDW. Earlier in the year, IDW's financial difficulties came to light and prevented the series from going ahead at that point.
Wynonna Earp won the People's Choice Award sci-fi/fantasy show of 2018, beating Supernatural, The Originals, The Expanse, and Shadowhunters: The Mortal Instruments.
In her early comic book adventures, she met trailer trash vampires who were obsessed with The Andy Griffith Show and mob-employed mummies. The action was played deadly serious, but the concept had inherent humor as well. The character, her supporting players, and the crazy bad guys existed in a world that was definitely a bit crazy.
"The concept of Wynonna Earp is one of legend, legacy, and the law. Wynonna is the great-great-granddaughter of the famous lawman, Wyatt Earp, a man that hunted down the worst fugitives the old west had to offer. Wynonna Earp is also a U.S. Marshal in modern times, but instead of hunting down regular fugitives, she hunts down paranormal fugitives as a part of the most covert division of the U.S. Marshals, The Black Badge Division. We get to see her go from raw, reckless rookie at the age of 27, to a leader with a legacy and a law to enforce," Beau Smith said.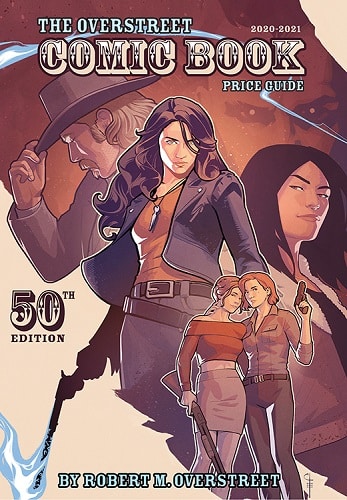 He created the character in 1996 for comics.
"It was actually years and years of carrying around a deep interest in the lore of Wyatt Earp and his time in Tombstone and my childhood interest in 1950's monster movies. I always had this abstract idea of mixing the two. In high school, when I read The Godfather, I really enjoyed reading about the business side of crime and how, even though criminals did all sorts of law breaking and terrible acts, they still had families, cookouts, went to church, and sometimes they even paid taxes. So the hierarchy of crime was a big attraction to me. I added that to the paranormal crime world, where there were werewolf bikers that were extortion experts, but also ran legit repair shops and paid taxes, zombie mailmen that just wanted to deliver the mail and occasionally make a corpse being delivered priority mail make it to their dinner table, or as bad as a modern-day range war between The Immortal Consortium and the Vampire Nation. Simple stuff like that. I guess you could say, Wynonna Earp has been a lifetime in the making," he said.
While the original comics featured a slightly older, well-established, more confident version of the character, the TV series has explored how she got to be that character.
Since premiering in 2016, Wynonna Earp has developed a legion of devoted fans, known as Earpers, who love the demon hunting ancestor to Wyatt Earp and her family/team of heroes and misfits. After the news broke that season four was in limbo, the show's fans rallied with the hashtag #FightforWynonna, purchased billboards in Times Square and made other efforts to express their devotion to the show and bring awareness to fight for its survival.
"The Earpers, this is all thanks to them," showrunner Emily Andras said during an interview. "The movement they have built on kindness and inclusivity is legendary, but what I admire most is their determination to fight not only for what they want, but what they deserve. The fans showed up right when we needed them most — but then, they always do."
Not only was season four confirmed, but the show will also have a presence at Comic-Con International with a panel that'll host Smith, Andras, and stars Melanie Scrofano, Katherine Barrell, and Greg Lawson.
In a gesture of support for the cult favorite, Syfy offered to pay a higher license fee for the program to help with production costs. This is a rare show of support from a network to a studio struggling financially, which helped to ensure that the fourth season would be made.
"Syfy has never wavered in its support of Wynonna Earp, a unique and important series with some of the most passionate fans anywhere," the network said in a statement. "To our Earper friends: Thank you for your patience and faith as we worked with our partners to ensure that Wynonna can get back to where it belongs … on Syfy."
The Earpers' commitment to Wynonna Earp inspired Andras to incorporate their passion into the fourth season. "The #FightForWynonna rally cry has emboldened me to incorporate even more resistance and empowerment themes into the upcoming season," Andras said. "Without a doubt, the priority is reuniting Wynonna Earp with her dysfunctional posse of family, friends, and former foes. More than anything, our fans want to see this beloved cast of characters working and loving and living together, and that's what we'll aim to put onscreen."
For Smith, a veteran comic book letter writer who became a well-versed industry professional, there's a "pinch me" quality to it that he can't believe.
"As a kid, the same time I was discovering comic books, the TV landscape was filled with TV westerns. I loved reading about the old west and the story of Wyatt Earp, his brothers, and friend Doc Holliday fascinated me. It had all the things that I loved about the old west, but it also pulled me in with its underlying story of family and friendship. I used to write stories in my school notebook about Wyatt Earp and his brothers fighting monsters. As a kid, I also loved the Universal Monsters, so I figured why not combine these two interests into one action-packed story," he said.
Renewal and Return: Wynonna Earp on the Comeback Trail