Ninety Five Years of Olive Oyl
By Fred M. Grandinetti
Olive Oyl, featured in comic strips, animated cartoons and numerous products, has always been an independent woman.  Though she is often thought of being Popeye the Sailor's girlfriend she is a star in her own right. In fact Olive Oyl survived as a comic strip character for nearly ten years before meeting Popeye.




E.C. Segar created this fearless symbol of spinsterhood for his Thimble Theatre comic strip in 1919.  Originally she helped her brother Castor's harebrained get-rich-quick schemes.  When Castor's plans flopped Olive would take her anger out on her banana-nosed boyfriend Harold Ham Gravy.  Ham and Olive were an item for several years until Popeye entered the strip on January 17, 1929. Segar's Olive was a woman who often resorted to fisticuffs to ward off an opponent.  Despite being in love with Popeye she was easily smitten by the attention another suitor would show her.

Olive's popularity intensified when, along with Popeye and Bluto, appeared in the 1933 animated cartoon, "Popeye the Sailor". This film was an entry in the "Betty Boop" series produced by the Fleischer Studios.  Popeye's own series began shortly after and Olive has since appeared in hundreds of animated adventures.  Originally, in the films, she appeared with the same visual design in Segar's comic strip. Olive was homely, tall, and skinny with her hair pulled back in a bun. She wore a long-sleeve shirt, black skirt and enormous shoes. By the mid 1940's, the animators at Paramount Pictures, remodeled Olive Oyl.  She retained the black skirt but wore a short-sleeved shirt and high heels.  Olive's hair was still pulled back in a bun but became much fuller with a clump of it visible at her forehead. She lost much of her homely look gaining eyelashes and, on occasion, cleavage!
When King Features Syndicate produced a series of television cartoons (1960 through 1963) Olive kept her pretty facial design but wore her clothes from the comic strip. By 1978, with the debut of "The All New Popeye Hour" produced by Hanna-Barbera, Olive retained both her homely appearance and original attire. For the (thankfully) short-lived series, "Popeye and Son" also produced by Hanna-Barbera in 1987, a homely looking Olive was running around in a track suit. Her hairstyle was very unattractive with a clumpy appearance.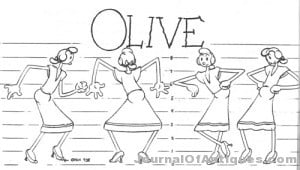 In the majority of the theatrical films Olive Oyl was often portrayed as a damsel in distress. Her characterization changed in the cartoons produced for television.  The Sea Hag, Popeye's number one enemy, was now a regular character in the 1960's episodes. When she showed up it was Olive who ate the spinach and bopped the ol'witch!  A segment in "The All New Popeye Hour" was called "Popeye's Treasure Hunt". Olive became the sailor's business partner and traveled the world.  She often used her brains to solve clues and got Popeye out of dangerous situations.
During her animated career Olive Oyl was voiced by Bonnie Poe, Mae Questel, Margie Hines and Marilyn Schreffler. The 1980 Popeye movie featured Shelly Duvall perfectly cast as a Segar-inspired Olive Oyl.
Olive's different versions have been merchandised aggressively throughout the years both inside and outside of the United States. Some noteworthy collectibles include:
Linemar's Mechanical Olive Oyl, Ballet Dancer, Tricycle Tin Wind Up and Sports Roadster Friction Toy including sculptured figure with hair (Late 1950's).
Gundkins Olive Oyl doll by Gund (Late 1950's).
Kohner's Olive Oyl Push Puppet (1960's).
PEZ Olive Oyl Dispenser (1966)
R.Dakin and Co.'s Olive Oyl Figure (1970's)
Coca-Cola Kollect-A-Set Series Olive Oyl Glass (1975)
Corgi's Olive Oyl Die-Cast Metal Plane (1980)
Vandor's Olive Oyl Mug (1980)
Uneeda's Olive Oyl Doll (1980)
Olive Oyl Thru the Years Glass by Popeye's Famous Fried Chicken (1982)
NJ Croce's Bendable Poseable Olive Oyl (1988)
Present's Rotating Musical Olive Oyl Figurine plays "Some Day My Prince Will Come" (1989)
Yolanda's Olivia Figure (1995, Italy)
Hallmark's Keepsake Ornament of Olive Oyl with Swee'pea (1996)
Wade's Olive Oyl with Swee'pea Figurine (1997-1998, England)
Mezco Olive Oyl Figure with Swee'pea (2001)
Winning Edge Olive Oyl Golf Club Headcover (2004)
Moschino's line of Olive Oyl attire features white, gray, black and pink T-shirts. They also produced a line of Olive Oyl illustrated scarfs (2014).
For decades Olive Oyl products were licensed with Popeye and his cast of characters.  In recent years King Features Syndicate, who own the rights to the sailor man; have licensed items under Olive Oyl's own brand.  For more information on Olive Oyl products and her worldwide popularity go to
http://oliveoyl.com/licensing/
While she will no doubt continue to scream for Popeye's help, when push comes to shove, she can eat spinach and bop her opponents like any pipe-tooting sailor man!  Happy Birthday Olive Oyl!