By Douglas R. Kelly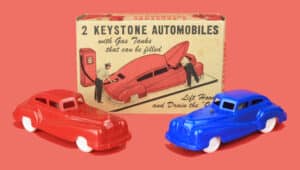 There's a box full of empty boxes in a storage space under the eaves of our house. The empties once held toy and model cars, but that was 60 or 70 years ago. Now they await replacements—or, more precisely, duplicate originals—something that happens only sporadically as I hunt for vintage stuff.
Several years ago, I made this kind of connection when I came across a blue and cream plastic friction-powered Simca Versailles for sale, made by French manufacturer Minialuxe in the 1950s. It was in perfect original condition and I thought, "Don't I have a box for this one somewhere?" Minialuxe models don't come along very often, so I wasn't sure I had a match. But I dug out the box box and sure enough, a box bearing the words "Simca Versailles 1/32 scale," which had been given to me by a friend some time before, looked up at me hopefully. I bought the Simca, then the toy and box were placed on display together in the cabinet, and all was well in that little corner of the world.
The Essence of the Original
For some toys, of course, finding an original box is quick and easy, especially for items made during the past 30 years. But vintage originals can be rare birds, which is why I buy empty originals whenever I can. It's not hard to figure out why original boxes generally are rarer than original toys. When a kid was given a GI Joe or a tinplate police car or a set of dollhouse furniture, what part of the toy usually went right into the trash? Add to that the fact that a cardboard box is far more easily damaged than a metal car or even a plastic refrigerator, and it's a
wonder that any original toy boxes have survived the years.
An original box often is more than just a place to store a plaything until it's played with or displayed. Many toy boxes made from the 1920s through the 1960s (and beyond) also had to sell the item(s) inside, which usually meant appealing both to a kid and a parent. Boxes therefore often sported colorful and whimsical artwork – more so than, for example, a box for a kitchen appliance or a box for a wrench set.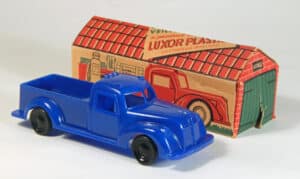 Toy artwork can be off-the-chart charming, and it also can offer a glimpse into the era in which it was created. When I was in my 30s, I started hunting for British Minic clockwork-powered tin cars and trucks, which were made long before my time, during the 1930s and 1940s. Minic boxes often depicted the cars and trucks motoring through English towns and along country lanes, and looking at them actually made me nostalgic (if that's the right word) for a time I never knew. A piece of folded cardboard that can do that is all right in my book.
Then there are boxes that do double (triple?) duty as miniature buildings. Dutch toy maker Luxor offered a plastic pickup truck during the 1950s that came in a box with a peaked (and shingled) roof, and garage doors on one end. The pickup fits snugly inside the miniature garage, the artwork of which just screams "1940s." The pickup is a decent model, but I think this one is a case of the box being more
interesting than the toy.
Alternatives to Originals
Collectors know that the vast majority of vintage toys no longer have their original boxes. Even when they do, the presence of an
original box can easily double the price of a toy, with especially rare examples adding even more dollars to the equation.
That's why reproduction toy boxes started appearing some 30 years or so ago. Many early repros were not of great quality, but as imaging technology continued to improve, makers of these things upped their games, providing collectors with well-made copies of boxes that
sometimes prove to be elusive. When that original is a rare bird and very expensive, a quality repro box can add to the display of a vintage toy.
When I asked him about originals vs. repros, a collector friend, Marc Star, told me, "My main collecting areas are models and slot
racing cars, and I'll buy a repro box for a slot car that's particularly attractive, or elusive, to display with the item. Usually, it's an
enhancement compared to what I'd have to put on the shelf otherwise."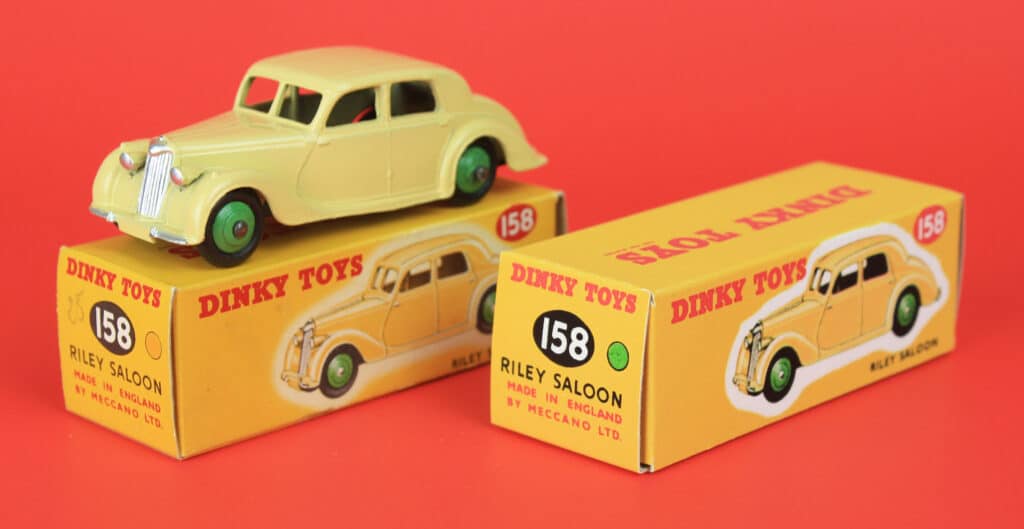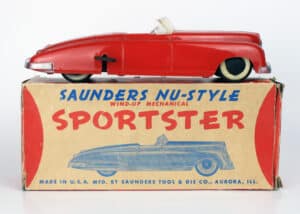 D.R.R.B. Reproduction Boxes (DRRB) in Lancashire, England has been a player in the repro box market for a number of years. The owner, Robb Barlow, tells me that a high-quality box starts with measurements. "The first stage of my reproduction process is to measure the original dimensions exactly so I get the right size on the repro box. I then tweak various settings until I get a match on all the colors. This is not a five-minute process and it's effectively trial and error, but I often finish up re-drawing most of the artwork in order to get all the colors matching." DRRB produces sharp-looking boxes that compare well with originals. It seems to me that the text characters on DRRB's boxes—on those that I've purchased, at least—print a little more heavily, and a close examination shows that the artwork on these boxes isn't quite as sharp as on an original. But it's a quality product at what I think is a reasonable price, ranging from around $15 for standard Corgi and Dinky boxes, up to more than $50 for more elaborate boxes.
Some repro box manufacturers don't go to such lengths when it comes to color matching and good preparation of artwork. The box for the GAMA Opel Kapitan shown here, produced by a German maker, appears to have been scanned from an original box that had considerable wear and damage. The maker didn't bother to clean up/correct the scrapes and dings before printing the repro box, so the damage shows on the repros.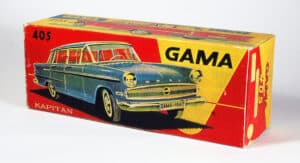 There's a problem, though, with some repro boxes. Repros can be, and sometimes are, passed off as originals. "The real problem comes when less experienced collectors do not realize they are buying a repro box and this leads to people being conned," says collector Andrew Ralston of Glasgow, Scotland. Given what original boxes generally sell for, this is a mistake nobody wants to make.
Some would say it's a case of buyer beware. I get that. But there's a relatively easy way to avoid this happening, and that's full disclosure by the maker of the repro box.
Reproductions of toys, as well as other kinds of antique reproductions, often carry some kind of mark or notice that indicates the item is, in fact, a reproduction or reissue. A box should be no exception; as Andrew Ralston has told me, "All these boxes should carry some discreet marking to show they are reproductions." For some reason, though, box makers often include no such notice.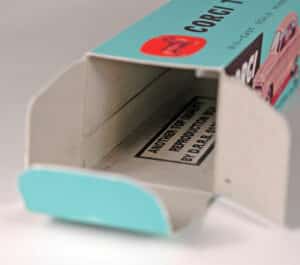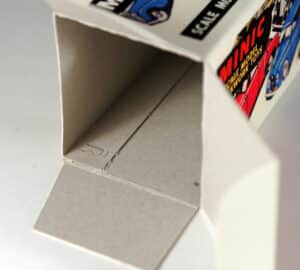 DRRB is one that does. The box for the Corgi Ford Consul shown here has a notice, clearly stamped in black ink inside, stating "Another top quality reproduction box by DRRB." Barlow says that his company no longer uses the ink stamp, due to it being fairly easy to remove with tape. "All [of our] boxes now have the embossed letter 'R' on the inside of the glue flap (which can't be removed)," says Barlow. "There is also another marking hidden within the artwork on every box, albeit in different places on each box."
I asked Barlow why he includes the mark that's hidden in the artwork, and he told me, "Its location is known only to us, not to the customers. It's there because I occasionally get asked if a repro box is one of mine, and it serves as an additional check that I can do to confirm or deny whether it is one of mine."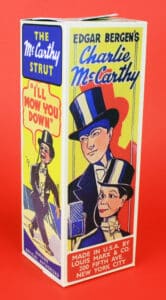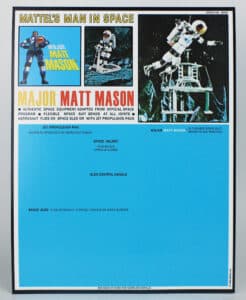 The Charlie McCarthy box and the Major Matt Mason backing board repros shown here both are sharp, good-quality repros. But neither of them has a repro mark of any kind. When I asked the seller why they don't include a mark, they told me, "Sorry, we forgot to stamp reproduction on them. Please write it on the inside." Hardly an effective solution to a problem that the box makers should resolve themselves.
Gathering Clues
So how does one tell the difference between a repro box and an original? There are a few good ways to go about it. First, the most
obvious: look for signs of "new-ness." Extra "flashing" (ragged trim) of the cardboard around the edges, or card stock that just looks too perfect and new, usually are signs the box is a recent re-creation. On the other hand, sloppy cutting and folding also may mean you have a repro. "On the slot car repro boxes I've bought," says Marc Star, "even as good as they are, you can usually tell they're repro because the die-cut isn't precise and the folding isn't quite as good as something that would be mass-produced."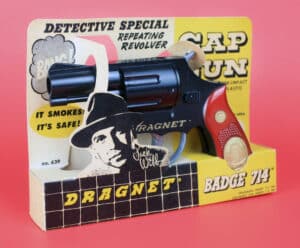 Another way is to check the end flaps on boxes that have them. A lack of wear marks on the flap edges, where on an original box fingers have pulled and pried for 60 or 70 years, often is a giveaway. Even an original box that has been carefully cared for usually has smudge or damage evidence of some kind in these areas. And on a box that shows wear, run your fingers over the damage…if you can't actually feel the scrape or the ding or the tear—meaning those areas are smooth—you're likely holding a repro that was created without "cleaning up" the
damage that was on the original.
For many years—from the 1920s through the 1960s—most toy boxes were made by printing the artwork, text, and so forth directly on the box. A box that has printing on paper stock that is then glued to the heavier card stock stands a good chance of being a repro. This is not set in stone, though, as some lift-off lid boxes (many Dinky Toys of the 1940s and 1950s, for example) featured printed paper adhered to the box.
And lastly, my favorite method of detection: the smell test. Alright, hear me out. This one is far from foolproof. But taken together with other clues, this can help in determining originality. Open up the box and sniff the inside. Does it have a musty odor? If so, that may indicate it's spent the last 50 or 60, or 80 years closed up. Try smelling old toy boxes (ignore the funny looks other people will give you) and likely as not, you'll start to develop a nose for original cardboard.
Just like with toys themselves, it's best to handle and examine as many original toy boxes as you can. You'll learn about color and artwork, as well as about typefaces and whether text on boxes is sharp or fuzzy, whether it's thin or thick.
And as with toys, condition is key with original boxes. We've all come across boxes that are in such bad shape that they are more hole than box. The better the condition, of course, the higher the price, but the hunt for the good stuff is a big part of why we do all of this, isn't it?
---
Douglas R. Kelly is the editor of Marine Technology magazine. His byline has appeared in Antiques Roadshow Insider, Back Issue, Diecast Collector, and Buildings magazines.