Reproduced with permission from Art&Object.com
Before there was Normandy in northern France, there was Gaul, under provincial rule in the Roman Empire from the 1st century BC to the 5th century AD, and remains of this centuries-old society still rest under the earth. On a spring day in 1830, a farmer named Prosper Taurin was plowing his field near the village of Berthouville, and his blade hit something hard. Beneath his plow was what was later identified as a Roman tile, and within that, a cache of glittering objects. He used his hoe to pull them from a brick-lined vault, finding 50 pounds of silver statuettes, bowls, jugs, and pitchers decorated with centaurs and gods.
Now known as the Berthouville Treasure, this serendipitous find of 90 objects dating from the first to third centuries AD is the largest and best preserved ancient silver hoard ever found. Today it's part of the Department of Coins, Medals, and Antiques in the Bibliothèque Nationale de France (BNF) in Paris. In 2010, the collection departed France for the first time, arriving at the J. Paul Getty Museum's Antiquities Conservation for a multi-year conservation and research project. Since 2014, it's been on tour in the United States and Europe.

Inclusive Research
The Berthouville Treasure's final stop before returning to Paris is the Institute for the Study of the Ancient World (ISAW) in New York, where its significance as evidence of cross-cultural exchange is highlighted in Devotion and Decadence: The Berthouville Treasure and Roman Luxury from the Bibliothèque Nationale de France. ISAW was established in 2006 at New York University to engage with research and education on cultural interconnections in the ancient world. While one gallery at ISAW concentrates on the Berthouville Treasure, a second has over 70 examples of Roman luxury objects from the BNF, such as gems, coins, jewelry, marble, an incredibly fine mosaic from Hadrian's villa in Tivoli, and Late Antiquity missoria, or large silver platters.
"For us, this exhibition is not only showing that there were these spectacular works of art, with lavish materials and materials that gesture at the breadth of the Roman Empire and the power of the Empire," said Clare Fitzgerald, ISAW's associate director for exhibitions and gallery curator. "We're focusing on what this tells us about the way in which culture changes and responds to that which it encounters."
A Place of Gods and Offerings
The farmer Taurin had plowed over what was once a sanctuary site dedicated to Mercury Canetonensis. The god of travel and commerce was particularly popular in Gaul, even more than in Rome. In this area, several ancient roads used for pilgrimage and trade across Europe and up to the British Isles converged. Locals and travelers, men and women, former slaves and the freeborn, all made offerings at the temple. They left their names on pitchers, ladles, and bowls as tributes of gratitude and devotion. These were votive objects with sacred meaning, but in their simple or elaborate craftsmanship and precious silver, they reflected an individual's power and wealth.
"We're focusing on the way in which these objects show us a view of the Gallic province which is nuanced and complex, and how the identities of the donors recorded at this site show us that it wasn't simply a matter of being a Roman citizen or a Gaul," Fitzgerald said. Gallic names like Combaromarus and Camulognat appear on a ladle and pitcher. A Roman citizen named Quintus Domitius Tutus offered an especially bombastic pair of skyphoi drinking cups featuring scenes related to Bacchus, with centaurs, instruments, panthers, snakes, wine skins, and grapes all bursting from the sides of the vessels. Even a Germanic name—Germanissa—appears on a votive object. "This is a very early example of Germanic people living in this area and being enmeshed in the community to the extent that they are dedicating at this shrine to Mercury," Fitzgerald stated.
This Gallo-Roman exchange is also in the visual language. An offering bowl, which may have been utilized for sacrifices or banquets honoring the gods, depicts Mercury with his consort, who is usually his mother Maia in Rome. "At Berthouville her identity is more complicated because once Maia makes it to Gaul, she gives her iconography to an indigenous fertility goddess named Rosmerta," Fitzgerald said. "So we have this really interesting situation where we can't tell the difference between Maia and Rosmerta in the iconography anymore. It shows us the way in which religion was forming to respond to local traditions."
Conservation Reveals the Details
The Getty's conservation exposed long obscured incised line work and chasing details, like a bird perched on a branch on a modest offering bowl, further revealing the vibrancy of the region's visual expression. By the 2000s, the Berthouville Treasure had chronicled centuries of human interaction with its fragile metalwork, including some bangs from the farmer's hoe, scratches from cleaning in antiquity and the 19th century, and the tarnishing that occurs when silver is exposed to the air.
"This was the first time that the entire treasure was treated all at the same time," said Susan Lansing Maish, assistant conservator in the Department of Antiquities Conservation at the J. Paul Getty Museum. Maish collaborated on the project with Associate Conservator Eduardo P. Sánchez. "We tried to make everything look unified as a whole treasure," she added.
Along with cleaning the objects, involving meticulous work on the thin gilding that accents several vessels, they took X-rays of each piece. "Because we had four years to do it, and we had the time, we had some analytical equipment we could look at them with," Maish said. "We were able to do things that they weren't able to do in previous times."
The centaur-adorned cups were actually formed in two parts, with a liner inside that was attached separately to the outer bowl. X-raying the silver vessels revealed previously unknown aspects of their construction. "We discovered a hidden weight inscription that had never been seen before it was made," Maish explained. The Getty additionally built custom mounts and crates so that wherever the treasure travels in the future, it will be protected.
The Future of the Collection
After Devotion and Decadence closes at ISAW on January 6, 2019, the Berthouville Treasure will return to France to rejoin the collections at BNF. Many of the objects in the exhibition are small and delicate, the kinds of artifacts that tend to go overlooked in bigger museum installations of monumental Roman sculptures or temple fragments. In their incredible attention to detail, and their importance as totems of personal faith, they reveal a Roman Empire that is more complex and diverse than is often perceived.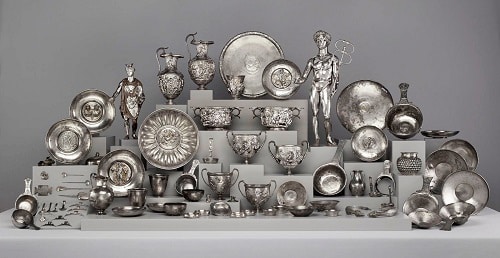 Allison C. Meier is a Brooklyn-based writer focused on history and visual culture. She was previously senior editor at Atlas Obscura, and more recently a staff writer at Hyperallergic. She moonlights as a cemetery tour guide.
Art & Object is an online fine art publication providing readers with the latest news and trends from the art world. In-depth reporting, podcasts, interviews with curators and world-class artists, and more on today's fine art market provides something for every art lover. Artandobject.com
Note: all images courtesy Bibliothèque nationale de France, Département des monnaies, médailles et antiques, Paris
UnEarthed: The Greatest Ancient Silver Hoard Ever Discovered