Comic Character Collectibles
By J.C. Vaughn
Artist Russ Heath has plied his craft from comic books to fine art across the decades. Virtually any student of comic book history can vouch that the phrase "living legend" is as over-used as it is in any other entertainment niche, but in this case the term actually does apply.
Best known for his comic book work, Heath was born September 29, 1926 and continues to work at age 89.
His artwork – particularly his work on DC Comics war titles – is prized among collectors, and his longevity has allowed him to live to see the newfound social acceptance of comic books that is distinctly a facet of this current era.
The journey hasn't been without its bumps, though. Not least of those trifles and tribulations was when "artist" Roy Lichtenstein copied Heath's work from DC Comics' All-American Men of War #89 (February 1962) for Lichtenstein in his oil paintings "Blam" and "Brattata." "Blam" sold for $4 million; Heath got nothing and eventually would need some assistance from the Hero Initiative, a 501(c)(3) charity that helps comic book creators.
Heath's career, though, is not summed up by that one incident, but rather by the pages and pages of highly detailed enjoyment he provided for readers.
"As a teenager, Heath got his start in the 1940s by obtaining a post drawing comics. This is where he began his decades-long ascent in the mastery of his craft… a craft he credits acquiring through countless hours of trial and error. Eager to fight for our country, he took a hiatus from his comic post and served in the military in 1945. While the details of his service are intriguingly hazy, they certainly did not impinge on his creative productivity, as he churned out art for the armed forces during his time of service," said Matt Ballesteros, an accomplished businessman and veteran DC war comics collector.
Each year Ballesteros brings a group of collectors, dealers and historians together to craft "The War Report," a detailed analysis of the performance of the genre he collects, which is published in The Overstreet Comic Book Price Guide.
"Once back to the civilian life, he quickly earned his way back into the comic book industry, working at Timely, Marvel, and Atlas and playing a big role in propelling western comic lore and the genre. Indeed, if you want an example of classic western art for the comic medium, look no further than Russ Heath as he indisputably helped set the bar for quality and detail," he said.
He played an even larger role in defining the war comic genre. While the bulk of his war comics work was at DC, he is viewed by Ballesteros and his compatriots as a pillar to the entire war comic category, a status reserved only for the late Joe Kubert.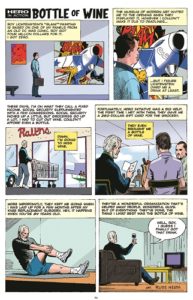 "Heath's level of detail and passion for accuracy in war comics still leave fans and collectors of the genre slack-jawed to this day," he said. Of course he did not work exclusively in the genre. His art was seen in humor for MAD and Playboy, and his action-adventure material did not need the presence of war to make it compelling.
And Heath's personal reputation for adventure and rolling the dice doesn't hurt the stories he tells. At one point he went to a party at the Playboy mansion as an invited guest. And then somehow managed to stay for a number of months before people finally started asking questions.
In the 1970s, Ballesteros said, his work hit an artistic high, arguably the pinnacle of his genius. "He perfected his compositional prowess and his ability to develop truly dynamic art. He created imagery that was fluid with movement, all while adding detailed realism into the work," he said.
"Indeed his dedication to detail is essentially unrivaled. It's almost like he just could not help himself. Over his career this commitment to detail resulted in a near photorealistic style, years before anyone else was doing it. His work is so detailed that other artists continue to use it for accuracy references. The potent combination of dynamic composition and ridiculous detail allowed Heath to powerfully capture "moments in time" with mere ink and line work like no other," he said.
"He is also the unequivocal master of crosshatching. Which he could also wield to the most exquisite infinite detail. Fans and artists alike can't help but gawk at this work. And if that wasn't enough, his understanding of light, dark, and negative space is equally extraordinary. He had a way of juxtaposing light against the dark that was rarely seen. He can draw an explosion in a night scene and only allow for the appropriate amount of light through the discipline of his hatching work, or conversely hatch tighter and tighter until it is a seamless inky black. People do not comprehend the amount of work it takes to do this. It is truly mind boggling; almost inhuman. He is, for a lack of better definition, transcendent," he said.
Russ Heath has provided the Hall of Fame cover for The Overstreet Comic Book Price Guide #46, which is set to go on sale on Wednesday, July 20, 2016. He will turn 90 in September.
J.C. Vaughn is Vice-President of Publishing for Gemstone Publishing.
An Actual Living Legend: Russ Heath