Guess What Article for January 2003 The Journal of Antiques & Collectibles
By Bob Cahn, "The Primitive Man"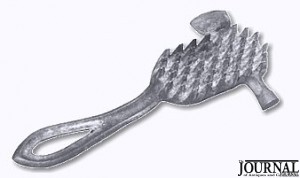 What a way to start the New Year – with a sexist remark! Actually, we didn't make it, it was made by the "Guess What" piece itself. Emblazoned in the cast iron across the top portion is the word "Amazon." There are a few more words, but revealing them would be giving away the answer before we start.
This month's item is known as a multi-purpose implement – hand-held, with three functions. A sharp cutting, chisel-edge cast iron blade and a tack hammer are two uses. We're asking you to come up with the remaining one – based on the 49 knife-edged spikes on the under side. [Dimensions: 8 3/4" L x 4" W]
This piece lends itself to various interpretations – some of which we're presenting for your evaluation.
Here they are:
Pie crust perforator and breather
Window box earth de-clumper
Wood work-shop paint peeler and scraper
Meat tenderizer
Punch board makers dimple hole starter
Buggy wagon wheel snow knocker
Taxidermist preparation tool
Horse groomer's curry comb
Kitty litter box cleaner and conditioner
Hog scraper and scratcher.
The Vegas oddsmakers are going 9 to 1, and there are 31 days to place your bet. Answer in the February issue.
Answer to December 2002 'Guess What?'
Everybody who guessed #4 from last month's array of red herrings was correct. Presented was a fish tail clamp for string-ing up or holding on to a single catch and submerging it in water to keep it fresh (lake or stream fishing.) The wood cork – forced between the two parts of the finger handle ends – maintained locking pressure on the clamp jaws and kept the device from loosening. (I guess if the tail was too slippery or cumbersome, you could clamp the mouth.)*
* available for acquisition